NutraLife Magnesium Complete Caps 100s
300mg Elemental Magnesium. For muscle tension, stress and worry; and helping to relax your body and mind.

AVAILABLE IN 50, 100 AND 250 CAPSULES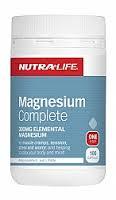 Specials are for online purchases only, don't miss out! -
Email
us to check for availability.
Why use Magnesium Complete?
Every cell in your body uses Magnesium: it's involved in over 300 different metabolic processes. Magnesium plays an important role in conducting nerve impulses and contracting/relaxing muscle fibres, which explains its role in relaxing muscle tension and discomfort. Magnesium is also important for bone and heart health; and can help to ease stress and worry.

Recommended for:
*Helping to relax muscle tension and discomfort
*Easing stress, nervous tension and worry
*Supporting both bone and heart health
Adults: Take one capsule daily, or as directed by your healthcare professional. If symptoms persist, consult your healthcare professional.
Each capsule provides

Magnesium (as oxide) 197mg
Magnesium (as orotate) 8mg
Magnesium (as phosphate) 21mg
Magnesium (as amino acid chelate) 75mg
Total magnesium: 300mg
Encapsulating aids.
From Small Beginnings - A New Zealand Success Story

Nutra-Life has a long and proud tradition of quality assurance for over 45 years. Today, the company operates out of a state-of-the-art manufacturing facility purpose built to Therapeutic Good Manufacturing (GMP) standards, to meet the most stringent quality control requirements.

Developed specifically for New Zealand lifestyles, Nutra-Life offers a range of high quality innovative, vitamin, mineral, garlic and herbal supplements.