NutraLife MSM Glucosamine Chond Joint Food 500g
Joint food powder. Nutritional support for joints, cartilage and ligaments.

AVAILABLE IN 500G POWDER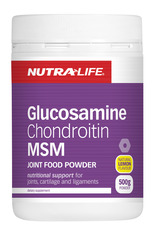 Specials are for online purchases only, don't miss out! -
Email
us to check for availability.
Why use Glucosamine Chondroitin MSM?
This pleasant-tasting, lemon-flavoured formula provides nutritional support for healthy joints, ligaments, cartilage and bones. Key joint support nutrients include Glucosamine sulfate, Chondroitin and MSM. MSM is a rich source of organic Sulfur: an essential mineral that supports healthy connective tissues, including joint cartilage.

The formula also includes antioxidant Vitamin C and the minerals Manganese, Zinc, Boron and Copper for comprehensive joint nutrition.

Recommended for:
*Maintaining healthy cartilage and connective tissues
*Supporting joint flexibility and mobility
*Providing comprehensive joint nutrition
Adults: 1 scoop (15 grams) may be added to foods or non acid cold beverages. Stir and serve. Take 2 serves daily, or as directed by your healthcare professional. Shake well before use. Scoop included inside.
Serve size: 15g Serves per day: 2 Servings per pack: 33
Average quantity per 15g serve per 30g per 100g
Energy 196kJ 392kJ 1307kJ
(47Cal) (94Cal) (312Cal) Protein <0.1g <0.1g 0.1g
Fat, Total <0.1g <0.1g <0.1g
-Saturated <0.1g <0.1g <0.1g
Carbohydrate, total 11.4g 22.8g 75.9g
-Sugars 10.2g 20.5g 68.2g
Sodium 57mg 114mg 381mg
Potassium 97mg 194mg 646mg
MSM (Dimethyl sulfone) 750mg 1500mg 5g
Glucosamine sulfate-
potassium chloride complex 750mg 1500mg 5g
Chondroitin sulfate - Bovine 600mg 1200mg 4g
Vitamin C (ascorbic acid) 150mg 300mg 1g
Zinc (as oxide) 6mg 12mg 40mg
Manganese (as sulfate) 3mg 6mg 20mg
Boron (as Borax) 0.5mg 1mg 3.3mg
Copper (as gluconate) 0.5mg 1mg 3.3mg
DERIVED FROM SEAFOOD. CONTAINS SULFITES AND POTASSIUM. CONTAINS CARBOHYDRATES.
From Small Beginnings - A New Zealand Success Story

Nutra-Life has a long and proud tradition of quality assurance for over 45 years. Today, the company operates out of a state-of-the-art manufacturing facility purpose built to Therapeutic Good Manufacturing (GMP) standards, to meet the most stringent quality control requirements.

Developed specifically for New Zealand lifestyles, Nutra-Life offers a range of high quality innovative, vitamin, mineral, garlic and herbal supplements.