NutraLife Omega 3 Fish Oil 1000mg Caps 180s
Sustainably sourced. Low odour, low reflux 1000mg Fish Oil - Natural.

AVAILABLE IN 180 AND 400 CAPSULES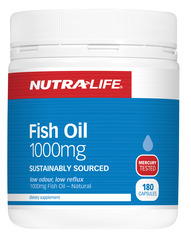 Specials are for online purchases only, don't miss out! -
Email
us to check for availability.
Why use Fish Oil 1000mg?
This natural fish oil is made from cold-water fish that are sustainably and ethically sourced. The oil is then encapsulated and packed in New Zealand.

Each capsule provides 1000mg of pure, natural fish oil: a rich source of the essential Omega 3 fatty acids EPA and DHA. Your body uses these fatty acids to support heart, circulatory system, brain and skin health. They may also help to maintain healthy joints, and assist with sore, stiff or swollen joints.

Recommended for:
*Helping with sore, stiff, swollen joints
*Maintaining brain, heart and circulatory system health
*Supporting healthy skin
Adults: For joint health, take 9-10 capsules daily. For skin health, take 10 capsules daily. For heart health, and cholesterol level maintenance, take 3-6 capsules daily. For healthy brain and eye function , and general well-being, take 3-10 capsules daily.

All doses to be taken with food & a glass of cold water.

Or take as directed by your healthcare professional.

If symptoms persist consult your healthcare professional.

Do not exceed the stated dose without professional advice.
Each capsule provides

Fish oil - natural 1g
Equiv. Omega-3 marine triglycerides 300mg
Equiv. EPA (Eicosapentaenoic acid) 180mg
Equiv. DHA (Docosahexaenoic acid) 120mg
Encapsulating aids, antioxidant
From Small Beginnings - A New Zealand Success Story

Nutra-Life has a long and proud tradition of quality assurance for over 45 years. Today, the company operates out of a state-of-the-art manufacturing facility purpose built to Therapeutic Good Manufacturing (GMP) standards, to meet the most stringent quality control requirements.

Developed specifically for New Zealand lifestyles, Nutra-Life offers a range of high quality innovative, vitamin, mineral, garlic and herbal supplements.