NutraLife Omega 3 Fish Oil 1500mg + Vit D Caps 180s
Sustainably sourced. Low odour, low reflux, mercury tested.

AVAILABLE IN 180 CAPSULES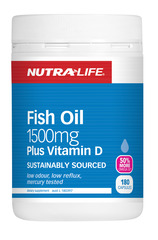 Specials are for online purchases only, don't miss out! -
Email
us to check for availability.
Why use Fish Oil 1500mg Plus Vitamin D?
This high-strength, natural fish oil formula is made from cold-water fish that are sustainably and ethically sourced. The oil is then encapsulated and packed in New Zealand.

Each capsule provides 1500mg of pure, natural fish oil: a rich source of the essential Omega 3 fatty acids EPA and DHA. That means it provides 50% more Omega 3s than standard 1000mg fish oil capsules - so you can get the same effects in fewer capsules.

Your body uses Omega 3 essential fatty acids to support joint health, and to help with sore, stiff or swollen joints. Omega 3 oils also help to maintain heart, circulatory system, brain and skin health. Additionally, these essential fatty acids may support normal cholesterol levels in healthy people.

Each capsule also provides Vitamin D to help maintain immune system health, and support strong, healthy bones.

Recommended for:
*Helping with sore, stiff or swollen joints
*Maintaining heart and circulatory system health, brain health, and normal cholesterol levels in healthy people
*Supporting a healthy immune system
Adults: For joint health, take 6 capsules daily. For skin health, take 7 capsules daily. For heart, and cholesterol level maintenance, take 2-4 capsules daily. For healthy brain and eye function , and general well-being, take 2-7 capsules daily.

All doses to be taken with food & a glass of cold water. Or take as directed by your healthcare professional. If symptoms persist consult your healthcare professional.

Vitamins should not replace a balanced diet. Do not exceed the stated dose without professional advice.
Each capsule provides

Fish oil - natural 1.5g
Equiv. Omega-3 marine triglycerides 450mg
Equiv. EPA (Eicosapentaenoic acid) 270mg
Equiv. DHA (Docosahexaenoic acid) 180mg
Vitamin D3 (Cholecalciferol 3.55mg) 142 IU
Encapsulating aids, antioxidant
From Small Beginnings - A New Zealand Success Story

Nutra-Life has a long and proud tradition of quality assurance for over 45 years. Today, the company operates out of a state-of-the-art manufacturing facility purpose built to Therapeutic Good Manufacturing (GMP) standards, to meet the most stringent quality control requirements.

Developed specifically for New Zealand lifestyles, Nutra-Life offers a range of high quality innovative, vitamin, mineral, garlic and herbal supplements.