NutraLife Shark Cartilage 750mg Pacific Ocean Caps 250s
Joint & cartilage formula. Natural source of Chondroitin for joint health.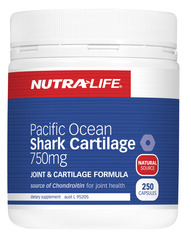 Specials are for online purchases only, don't miss out! -
Email
us to check for availability.
Why use Pacific Ocean Shark Cartilage 750mg?
This supplement provides pure Shark Cartilage: a natural source of Glucosamine, Chondroitin sulfate and Polysaccharides. Shark Cartilage has a long tradition of use as a health supplement, especially in helping with joint soreness and stiffness.

The cartilage in this product is derived from sharks that are caught for food in the oceans around New Zealand.

Recommended for:
*Maintaining joint mobility
*Assisting with joint swelling and stiffness
*Supporting joint comfort and flexibility
Adults: Take 1 to 3 capsules daily, or as directed by your healthcare professional. If symptoms persist consult your healthcare professional. Children, pregnant or breastfeeding women, and those who have recently had a heart attack, surgery or a major accident should not consume this product without medical advice.
Each capsule provides Shark cartilage powder 750mg Encapsulating aids.
From Small Beginnings - A New Zealand Success Story

Nutra-Life has a long and proud tradition of quality assurance for over 45 years. Today, the company operates out of a state-of-the-art manufacturing facility purpose built to Therapeutic Good Manufacturing (GMP) standards, to meet the most stringent quality control requirements.

Developed specifically for New Zealand lifestyles, Nutra-Life offers a range of high quality innovative, vitamin, mineral, garlic and herbal supplements.