Nutralife Whole & Fermented Superfood 490g Natural
Nutra-Life Whole+ Fermented Superfood provides WHOLE BODY NOURISHMENT with Supercharged nutrition. Vegan friendly. Non GM ingredients. Formulated without dairy, soy, wheat & egg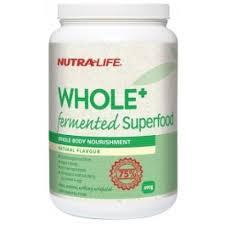 Specials are for online purchases only, don't miss out! -
Email
us to check for availability.
Why use WHOLE+ fermented Superfood?
Nutra-Life WHOLE+ fermented Superfood is a wholesome and nourishing formula combining potent superfoods with the power of advanced food fermentation to support optimum vitality and wellbeing.
This pH balancing formulation, combining the benefits of a wide range of colourful fruits, vegetables and herbs, will supercharge you for whatever life brings
Nutralife recommend you to mix one scoop with 200ml of water.

Active Ingredients:
INGREDIENTS LISTING: Fermented Rice Protein Concentrate (38%) (Oryza sativa), Superfood Blend (21%) [Beetroot juice powder (Beta vulgaris), Carrot (Daucus carrota), Apple peel (Malus domestica), Sunflower lecithin, Moringa leaf powder (Moringa oleifera), Broccoli powder & Broccoli sprout powder (Brassica oleracea), Licorice root extract (Glycyrrhiza uralensis), Acerola berry juice extract (Malpighia glabra), Blueberry fruit & leaf powder (Vaccinium ovalifolium & uliginosum), Siberian ginseng root extract (Eleutherococcus senticosus), Milk thistle seed extract (Silybum marianum L), Ginkgo biloba leaf extract, Green tea extract (Camellia sinensis), Bilberry fruit extract (Vaccinium myrtillus L), Grape leaf & seed extract (Vitis vinifera)], Fermented Blend (18%) [Linseed (Linum usitatissimum), Rice bran (Oryza sativa), Purslane (Portulaca oleracea), Purple carrot (Daucus carrota), Olive fruit extract (Olea europaea), Tomato powder (Solanum lycopersicum), Kale (Brassica oleracea acephala), Sea buckthorn fruit extract (Hippophae rhamnoides), Black Cumin seed powder (Nigella sativa), Amla fruit (Emblica officinalis), Cocoa seed (Theobroma cacao)], Fermented isomaltooligosaccharides (18%), Acidity regulator (Potassium bicarbonate), Natural flavour, Stevia leaf powder, Vitamin D [(from mushroom (Agaricus Bisporus)], Lutein, Coffee fruit extract (Coffea Arabica), Sweetener (Steviol glycosides), Cantaloupe fruit extract (Cucumins melo).

Formulated without:
GM ingredients, wheat, soy, egg, dairy, animal products, artificial ingredients (preservatives, colours, flavours, sweeteners).


Nutrition Information:

Servings per package: 30
Serving size: 16.3g

Average Quantity
per Serving (16.3g) Average Quantity per 100g
Energy 254kJ (61Cal) 1560kJ (373Cal)
Protein 6.0g 36.6g
Fat, Total 1.0g 6.3g
- Saturated 0.2g 1.3g
Carbohydrate 5.9g 36.3g
- Sugars 1.4g 8.5g
Dietary Fibre, total 1.8g 11.0g
Sodium 17mg 105mg
Calcium 101mg 617mg
Iron 3mg 21mg
Vitamin C 11mg 68mg
Vitamin D 10µg 61µg