NutraLife Womens Daily Multi Tabs 60s
With vitamin d3 + red clover isoflavones. Supports hormonal balance. Supports heart and bone health. Provides B vitamins for energy.

AVAILABLE IN 60 TABLETS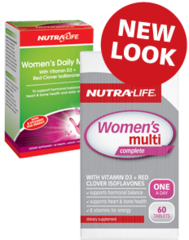 Specials are for online purchases only, don't miss out! -
Email
us to check for availability.
Why use Women's multi complete?
This formula is a comprehensive multivitamin and mineral supplement that supports women's everyday health and vitality.

It is formulated with Red clover isoflavones to help maintain hormonal balance, plus Vitamin D3 to support heart health, bone health, and immunity.

Recommended for:
*Supporting women's everyday health and vitality
*Maintaining hormonal balance and energy levels
*Supporting heart health, bone health, and immunity
Adults: Take 1 tablet daily with food, preferably with breakfast, or as directed by your healthcare professional.
Each tablet provides:

Vitamins
Betacarotene 2mg
Thiamine (as nitrate) (Vit. B1) 16.8mg
Riboflavin 10mg
Nicotinamide 15mg
Calcium pantothenate 27.3mg
Equiv. Pantothenic acid (Vit.B5) 25mg
Pyridoxine hydrochloride 18.2mg
Equiv. Pyridoxine (Vit.B6) 15mg
Folic acid 300mg
Cyanocobalamin (Vit. B12) 50mg
Biotin 75mg
Ascorbic acid (Vit.C) 150mg
Cholecalciferol (Vit. D3 400 IU) 10mg
d-alpha tocopheryl acid succinate (Vit.E 50 IU) 41.3mg
Phytomenadione (Vit. K1) 2mg
Minerals & Cofactors
Magnesium (as oxide-heavy) 100mg
Zinc (as sulfate) 15mg
Iron (as ferrous fumarate) 5mg
Manganese (as sulfate) 1mg
Selenium (as Selenomethionine) 50mg
Chromium (as nicotinate) 50mg
Copper (as gluconate) 500mg
Molybdenum (as trioxide) 125mg
Iodine (as potassium iodide) 150mg
Boron (as Borax) 1mg
Citrus bioflavonoids extract 50mg
Red clover herb top flowering ext. equiv. dry 469mg
equiv. Isoflavones 7.5mg
Tabletting Aids, colours.
Patients on Warfarin: Do not use this product without medical advice.
From Small Beginnings - A New Zealand Success Story

Nutra-Life has a long and proud tradition of quality assurance for over 45 years. Today, the company operates out of a state-of-the-art manufacturing facility purpose built to Therapeutic Good Manufacturing (GMP) standards, to meet the most stringent quality control requirements.

Developed specifically for New Zealand lifestyles, Nutra-Life offers a range of high quality innovative, vitamin, mineral, garlic and herbal supplements.