Nuzest Good Green Vitality 120g (was Good Green Stuff))
Say hello to Nuzest Good Green Vitality – the new look Good Green Stuff! Good Green Stuff has a new name, improved formula and a stylish new look. With the same great taste and more than 75 high-quality vitamins, minerals and other essential nutrients designed to help you look good, feel good, defend and thrive, it's still just as easy to be healthy with Good Green Vitality.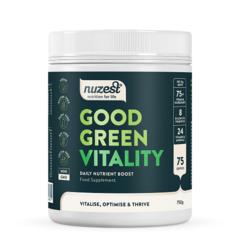 Specials are for online purchases only, don't miss out! -
Email
us to check for availability.
Made with real food, providing all-in-one nutritional support, free from all common allergens and containing absolutely zero bad stuff, Good Green Vitality is naturally good, easy-to-use, incredibly delicious and perfect for all members of the family.
NuZest Good Green Vitality features:
Just concentrated, real food ingredients with a multinutriend boost
Made using 75+ ingredients for comprehensive nutritional support
No Genetically Modified Organisms (GMO)
No Lactose, Sucrose, Dextrose or other added sugars
Vegan Friendly
No Herbicides, Pesticides, or Synthetic Chemicals
Gluten free, dairy free and GMO free
Free from common allergens, no gluten, dairy, eggs, nuts, soy or corn.
Today's lifestyle and environment means that despite our best efforts to look after ourselves, our bodies need a little extra TLC to enjoy optimal health. That's why we reformulated Good Green Stuff – to bring you more of what our bodies need most to keep up with modern-day life.
Our refreshed and rejuvenated formula now includes more vitamins, minerals and vital nutrients to further support digestion, immunity, healthy ageing, stress management, energy and cognition.
From children to the elderly and busy mums to pro-athletes, Good Green Vitality is the go-to daily supplement that has everything you need to revitalise, optimise and thrive:
NuZest Good Green Vitality features:
Look good with resveratrol, CoQ10 and ashwagandha
Feel good with probiotics, enzymes and fibre
Defend with zinc, vitamin C and mushrooms
Thrive with vitamins B9 and B12 and ginseng
100% vegan with vitamin D, calcium and iodine
Nothing bad, nothing GMO, nothing artificial and no nasty chemicals
Suitable for everyone from 4 years and up
Vitality And Balance
Feel good naturally, with nutrients to support energy production and your body's natural detoxification pathways.
Immune Support
Contains a wide range of ingredients that help to regulate inflammation and support healthy immune function.
Easy Digestion
We only use ingredients that your body will be able to easily digest and absorb.
Memory and Stress Control
Contains a combination of nutrients and apoptogenic herbs to support cognitive function and help cope with stress.
Available Sizes:
Container Size: 120g
Serving Size: 10g
Servings Per Container: 12
Container Size: 300g
Serving Size: 10g
Servings Per Container: 30
Container Size: 750g
Serving Size: 10g
Servings Per Container: 75
Directions:
Dissolve 2 heaped teaspoons (10g) into 200-300ml of water, milk or juice.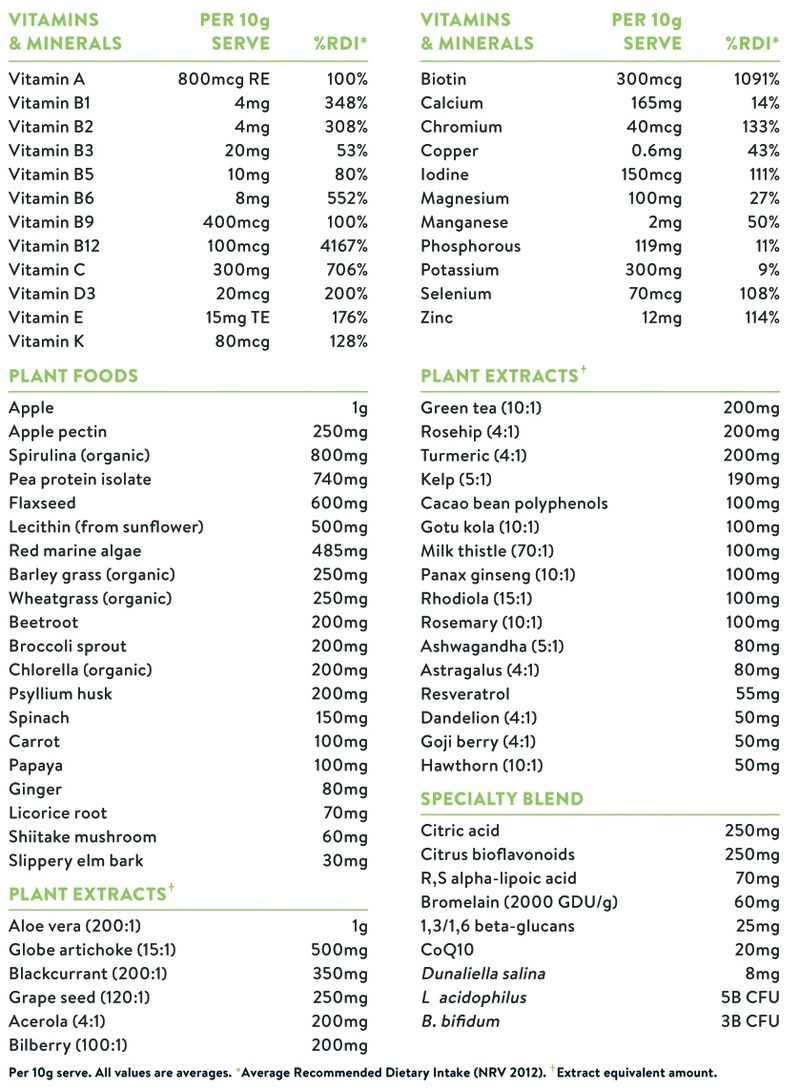 NuZest products are designed to fill the nutritional gaps caused by nutrient-deficient food, stressful lifestyles and poor eating habits.
Our unique formulae are some of the most advanced nutritional supplements on the market – every ingredient, and every form of ingredient, backed by a sound scientific rationale. Our formulae are regularly reviewed and improved upon to ensure NuZest products are always aligned with the most up to date research and information.
So welcome to NuZest – and a new approach to feeling great.