NZ Cancer Society SPF30+ Pump Bottle 375ml
SPF30+ 375mL Pump Bottle
Properties: Extra Light, NonSlip. UVA and UVB Broad spectrum. 2 Hours Water Resistance.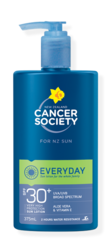 Specials are for online purchases only, don't miss out! -
Email
us to check for availability.
Cancer Society SPF30+ Sunscreen is very high protection against New Zealand's harsh UV radiation. All Cancer Society sunscreens provide broad spectrum protection, which means they protect from both UVA and UVB radiation, and are water resistant for up to two hours.
*Everyday UVA UVB Broad Spectrum
*Very High Protection
*2 Hour Water Resistance
*Complies to AS/NZS2604:1998
Store Below 30°C
Why should I apply sunscreen at least 15 minutes before I go outside?
For best protection, apply your sunscreen at least 15 minutes before you go outside. This gives the sunscreen time to form a physical barrier (a cover) on the skin.

How much sunscreen should I use?
Aim for at least a teaspoon for each arm and leg, and half teaspoon for your face, ears and neck.

Should I put more sunscreen on during the day?
You should reapply your sunscreen, at least, every 2 hours or more often when swimming or sweating from September to April.
From September to April stay in the shade as much as you can. If you can't do this - follow the five SunSmart steps (slip, slop, slap, wrap and stay in the shade).
Sunscreen Active Ingredients : Octyl Methoxycinnamate 80mg/g, 4-Methylbenzylidene Camphor 30mg/g, Butyl Methoxydibenzoylmethane 20mg/g
Keep sunscreen in a cool place. Sunscreen that has been left out in the sun or near other sources of heat may not work. For more information check the label on your sunscreen.
The Cancer Society's range of products are designed to care and protect the skin and reduce the likelihood of skin cancer. We aim to deliver quality products at value for money prices to as many New Zealanders as possible.

Sales of our products help us to generate income for the Cancer Society. So know that when you buy them, you are contributing funds to help support the vital work of the Cancer Society.

Thank you for your support!