Olbas Oil Inhalant Decongestant 28ml
**OUT OF STOCK - Mar 2020 **
Olbas oil is a mixture of essential oils which gives off a vapour that helps clear congestion. It contains a mixture of essential pure plant oils for relief of bronchial & nasal congestion & hay fever by inhalation; & for symptomatic relief of muscular pain.
Immediate relief for catarrh, colds and sinuses.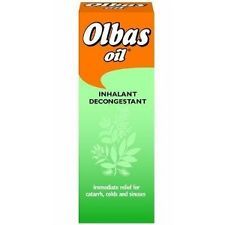 Specials are for online purchases only, don't miss out! -
Email
us to check for availability.
Benefits of Olbas Oil

Inhalation: Olbas Oil is a completely natural essential oil formula that delivers invigorating and soothing sensations to the nasal and bronchial areas.

Massage: Applied to the body, Olbas Oil tends to stimulate circulation at the surface of the skin. It opens up the pores and provides a comfortable feeling in the muscles and joints.

Sports: Runners, cyclists and other sports enthusiasts praise the value of Olbas Oil. Massaging with Olbas Oil helps loosen muscles and make them supple, while inhaling Olbas vapors may help support endurance and performance.
As an inhalant:

Adults and children aged 2 and over: Inhale 2 or 3 drops from a tissue to clear painful sinuses and nasal congestion. Supervision may be necessary with young children. At night, sprinkle 2 or 3 drops onto a tissue placed inside a pillow case for relief at night time.

Children 3 months - to 2 years of age:Place 1 drop on a tissue and hold nose to, but not touching, the child and allow the child to breath in the vapour. At night place 1 drop on a tissue and place in the room, out of the child's reach. The recommended dose may be added to hot water and the vapour inhaled, or left in the bedroom overnight. Ensure hot water is kept out of the reach of children.

As an external rub:

Apply with gentle massage to the painful area, three times a day.
Active ingredients (w/w):

Cajuput oil BPC 18.50%, clove oil BP 0.10%, eucalyptus oil BP 35.45%, juniper berry oil BPC '49 2.70%, menthol BP 4.10%, Dementholised Mint oil BP 35.45%, Wintergreen oil BPC '49 3.70%
Olbas oil may cause a stinging sensation if it comes into contact with delicate skin. The effect is not serious and lasts only a short while. If olbas is accidentally swallowed seek medial advice. If olbas oil comes into direct contact with the surface of the eye, wash thoroughly and seek medical advice. If you experience any unusual reaction to the product talk to your health care professional and discontinue use.

Not suitable for babies under 3 months old.

For inhalation or external use on unbroken skin only.