Omron HV-F128 TENS Device
The Omron HV-F128 is a premium TENS device from Omron. With 12 automatic therapy modes, the Omron HV-F128 can easily be set to offer either pain relief or muscle stimulation at the touch of a button. The LCD screen displays the time remaining of the therapy and the frequency of the electronic stimulation being delivered.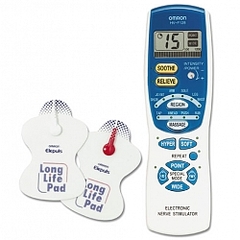 Specials are for online purchases only, don't miss out! -
Email
us to check for availability.
Features:
Relief of pain
Pre gelled long life pads
Management of muscular injuries
12 Automatic therapy modes
LCD panel shows frequency and time remaining of therapy
High frequency stimulation to relieve pain quickly
Single channel device
Omron TENS Machine HV-F128 provides 12 Auto Therapy Modes to soothe and relieve, for specific regions and massage types, and 5 Special Modes to select and adjust desired level of stimulation. Combine with Auto Therapy Modes for better effect.
Auto Therapy Modes :
Soothe Mode: Therapy for muscle ache.
Treats with low frequency. Effective for stiff muscles and improve blood circulation.
Relive Mode: Therapy for muscular pain.
Treats with high frequency at 120Hz. Effective for muscular pain in the lower back and joints.
Region Modes (6 programmes)
Automatic therapy programme for the selected area.
Massage Modes (4 programmes)
Relieves with your favourite massage programmes.
Special Modes:
Hyper Mode
Increase stimulation intensity gradually. Effective for quick relief of muscular pain and spasms.
Soft Mode
Gentle stimulation. Effective for recovery from fatigue and muscle ache.
Repeat Mode
To repeat your favourite stimulation and massage modes.
Point and Wide
For shoulder or small area - select POINT.
For lower back or larger area - select WIDE.
Red and White (Balance)
Adjust stimulation effect of the left and right pad for optimum therapy.
Use as directed, instruction manual enclosed.
ACCESSORIES INCLUDE
Electrode Cord, Type K (1 pc)
Electrode Pad HV-LLPAD (2 pcs)
Batteries (AAA batteries, 2 pcs)
Pad Holder (1 pc)
Soft Carry Case (1 pc)
Instruction Manual
WARNING - The Omron HV-F128 is not designed for use above the neck or for individuals who have a pacemaker.