Panadol Rapid soluble 20 tablets
When you're suffering from headache and body aches, you need rapid relief. Panadol Rapid Soluble is absorbed twice as fast as regular Panadol Tablets and comes in a lemon flavoured effervescent tablet. Panadol Rapid Soluble is also gentle on your stomach.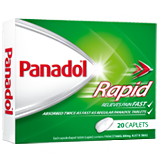 Specials are for online purchases only, don't miss out! -
Email
us to check for availability.
Panadol Rapid Soluble provides fast, effective temporary relief of pain and discomfort associated with:

Headache/Tension Headache
Toothache
Cold & Flu Symptoms
Migraine Headache
Sore Throat
Muscular Aches
Period Pain
Panadol Rapid Soluble also reduces fever.

Suitable for:
People with stomach ulcers

When you've got aches, pains or fever, you can count on Panadol Rapid Soluble to help you to get back to the things you enjoy.
Dosage: Adults: 1 to 2 tablets dissolved in a glass of water up to every 4 to 6 hours (maximum of 8 tablets per 24 hours) Children (7 to 12 years): Half to One tablets every 4-6 hours (maximum 4 tablets per 24 hours)
Active Ingredient: Paracetamol 500mg in the form of a fast-acting, lemon-flavoured effervescent tablet
ide effects are rare with paracetamol when it is taken at the recommended doses. One advantage of paracetamol over aspirin and NSAIDs is that it doesn't irritate the stomach or cause it to bleed, potential side effects of aspirin and NSAIDs.

Always read the label carefully and use strictly as directed. If symptoms persist or side effects develop, see your healthcare professional.