Phloe Bowel Health 120 Capsules
Phloe: Phloe Healthy Bowel a new 100% natural (from Kiwifruit) digestive aid that is clinically shown to keep you regular while promoting long-term intestinal health.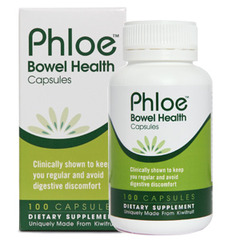 Specials are for online purchases only, don't miss out! -
Email
us to check for availability.
More than just fibre, Phloe Healthy Bowel is the first product to use a unique triple action that combines prebiotics, enzymes and fibre from kiwifruit to help manage your bowel health for the short and long term. E.g constipation

Phloe Healthy Bowel

Clinically proven to promote regular bowel movements
For short and long term bowel health
Triple Action Complex Prebiotics, Enzymes & Fibre
100% natural active ingredient Zyactinase (from kiwifruit)
Assists the body to absorb the optimal level of nutrients from food
Take 1 - 2 capsules together, daily before food. May be increased up to 4 capsules daily (2 before morning and evening meals) for short periods, if required. Often Phloe users find taking a slightly higher dose (4 caps) for the first 3-5 days helps them balance their system. This can then be pulled back to a maintenence dose of 1 - 2 capsules a day ongoing. It is important that you find what the right dose is for your system.

Pregnant Women:

Phloe is a 100% natural* product made from kwifruit and issuitable for pregnant and breastfeeding women. Up to 25% of all pregnant women suffer from constipation during and after pregnancy. Phloe is a proven and natural way to help manage this.

Children:

Suitable for use in children 3-12 yrs with medical advice.

Infants:

Not recommended for children under 3 yrs
Zyactinase 575mg (from Kiwifruit)

Also contains: Isomalt, Magnesium Stearate, Silicon Dioxide.

Capsule: Vcaps, Non-Gelatin vegetarian hypo-allergenic.
Phloe is not recommended for anyone who has a known allergy to kiwifruit.