Phloe Bowel Health 30 Capsules
Phloe Healthy Bowel a new 100% natural (from Kiwifruit) digestive aid that is clinically shown to keep you regular while promoting long-term intestinal health.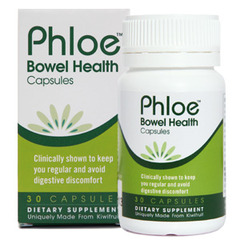 Specials are for online purchases only, don't miss out! -
Email
us to check for availability.
More than just fibre, Phloe Healthy Bowel is the first product to use a unique triple action that combines prebiotics, enzymes and fibre from kiwifruit to help manage your bowel health for the short and long term. E.g constipation

Phloe Healthy Bowel:
*Clinically proven to promote regular bowel movements
*For short and long term bowel health
*Triple Action Complex Prebiotics, Enzymes & Fibre
*100% natural active ingredient Zyactinase (from kiwifruit)
*Assists the body to absorb the optimal level of nutrients from food

Phloe: Short Term Benefits:
The Enzymes in Phloe help with motility (movement) and gently allow waste to move through the digestive system. They also aid with digesting food enabling you to absorb the optimum level of nutrients into your system.

The Fibre in Phloe works in the same way as most other fibre only supplements providing bulk to the stool.

Long Term Benefits:
In the long term the Prebiotics in Phloe help the good bacteria in your system grow stronger helping your system return to working the way it is suppose to.
Phloe: Adults:
Take 1-2 capsules together, daily before food. May be increased to up to 4 capsules daily (2 before morning and evening meals) for short periods, if required.

Children:
Suitable for use in children 3-12 yrs with medical advice.

Infants: Not recommended for children under 3 yrs
Not to be used in persons with allergies to kiwifruit. If symptoms persist, please consult your healthcare professional.