Phloe Bowel Health 30 chewable tablets
Phloe chewable tablets are a tasty chewable format with the same digestive health benefits as Phloe capsules. Kiwi-tropical flavoured, the chewable tablets are delicious and perfect for busy people, travellers or kids. Conveniently you don't need water - just pop in your mouth and chew.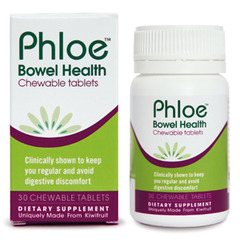 Specials are for online purchases only, don't miss out! -
Email
us to check for availability.
Phloe: Phloe Healthy Bowel a new 100% natural (from Kiwifruit) digestive aid that is clinically shown to keep you regular while promoting long-term intestinal health.

More than just fibre, Phloe Healthy Bowel is the first product to use a unique triple action that combines prebiotics, enzymes and fibre from kiwifruit to help manage your bowel health for the short and long term. E.g constipation

Phloe Healthy Bowel:
*Clinically proven to promote regular bowel movements
*For short and long term bowel health
*Triple Action Complex Prebiotics, Enzymes & Fibre
*100% natural active ingredient Zyactinase (from kiwifruit)
*Assists the body to absorb the optimal level of nutrients from food
Not to be used in persons with allergies to kiwifruit. If symptoms persist, please consult your healthcare professional.