Radiance Man Power 60 Capsules
Radiance Man-Power is a 100% herbal formula specifically designed to support a man's modern, active lifestyle. Contains Horny Goat Weed, Muira puama, Maca root, Tribulus, Ginseng and more. Performance, Libido & Vitality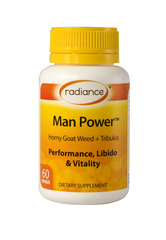 Specials are for online purchases only, don't miss out! -
Email
us to check for availability.
Man Power - a herbal tonic for the support of normal healthy male virility. - Radiance Man Power is a complex natural herbal formula that gently supports the health of the male glandular and hormonal system. The effect of maintaining optimal health in these areas includes energised and active libido, sexual ability and performance. This is a formula that should be taken on a daily basis to help support function and wellness in the whole male system. Research suggests normal healthy sperm production and viability may also be supported by the herbs in this formula. It is interesting to note that some women also find benefit from this tonifying herbal formula. It is perfectly safe for women to take Man-Power to support healthy libido and sexual enjoyment, however, it is not recommended that they do so continually for more than 3 months without a break. Usage: Herbal tonic for the support of healthy energised and active libido, sexual ability and performance It should be noted that Radiance Man-Power is NOT a herbal "Viagra". Although some people taking Man-Power may feel the tonic effects in their wellbeing within a few days, others may need many weeks before the desired results are noticed.
Adults take 1-2 capsules daily.
Each Capsule Contains: Horny goat weed 375mg Muira puama 100mg Maca root 100mg Tribulus 75mg Panax ginseng 50mg Damiana 50mg Ginkgo biloba 30mg Cayenne 25mg Also contains: Gelatin capsule, magnesium stearate. Contains no: Corn, egg, gluten, milk derivatives, nuts, salt, soy, sugar, wheat, yeast, artificial preservatives, flavouring or colours.
The supportive effects on energy and vigour of the herbs in Man-Power mean that people need to be sensible with their use of that energy if high blood pressure, heart disease or any other type of cardiovascular disorder present. Discontinue use if nervousness, sleeplessness or anxiety occurs. Always ask your product supplier or health professional if there are any specific precautions regarding your use of this or any supplement.