Radiance Silica Beauty 60 Veg Caps
***NEW*** Gotu kola, silica and minerals for healthy hair and nails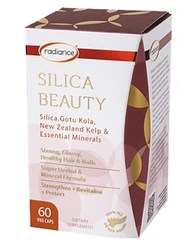 Specials are for online purchases only, don't miss out! -
Email
us to check for availability.
A synergistic blend of the wonder herb gotu kola alongside essential minerals and nutrients to enhance the health, beauty and growth of hair and nails. This formula addresses all the nutrient deficiencies which may impact negatively on the condition of the hair and nails while also promoting fast repair of all connective tissues.
Gotu kola -This tonic herb has pride of place for supporting beautiful hair and nails, enhancing skin and tissue healing, ensuring optimal venous tone and even treating those with dimpled skin. It is also great for treating stress and exhaustion, which can also impact on hair and nail condition and growth.
Silica (derived from bamboo shoots) – Supports the health, growth, repair and strength of nails and hair. Deficiency in silica, which is more common as people age, appears as brittle hair and nails and can also result in excessive shedding, thin hair, hair loss and peeling nails. Silica is also essential for collagen production so supports all connective tissue including skin, especially aging skin that is losing elasticity. We have used bamboo sourced silica as it is sustainable, high potency and more bioavailable than other silica sources.
MSM—Provides organic sulphur which is shown to improve hair condition, thickness, to promote growth and may help support those with hair loss. MSM also supports nail growth and may help to promote a healthy scalp.
Biotin- Deficiency of biotin is very common and is associated with greying hair, hair loss, brittle, peeling nails and skin conditions such as psoriasis and eczema.
Organic NZ Giant Kelp– Macrocystis pyrifera provides a full complement of minerals including iodine which helps to tone the thyroid and improve hair and nail condition and support optimal growth.
Essential minerals- Manganese and boron are incorporated into the formula as they support the absorption of silica, zinc and biotin needed for healthy keratin and collagen production. Low levels of selenium are associated with brittle nails dandruff and psoriasis. Low calcium is associated with peeling, soft nails while low zinc can produce white marks on the nails, poor hair growth, male pattern baldness and cause skin issues
Usage:
For healthy hair and nails, for people with poor hair and nail condition . To support healthy skin, bones and cartilage.
Dosage:
Take two capsules daily
Ingredients per capsule:
Gotu kola (Centella asiatica)equiv to dry leaf …………............1000mg
Bamboo shoot extract……………………………………………….250mg
Equiv to silica………………………………..……………………......175mg
Methylsulfonylmethane (MSM)……………………………….........100mg
Vitamin C (ascorbic acid).……………………………………...........25mg
Calcium (chelate)………………………………………………….…...25mg
Valere Kelp Organic NZ Giant Kelp
(Macrocystitis pyrifera) powder............................…...................22mg
Zinc (chelate)……………………………………………………….…... 3mg
Manganese (chelate)……………………………………………….......1mg
Boron (glycinate)……………………………………………………... 500µg
Biotin…………………………………………………………………......300µg
Selenium…………………………………………………………….…....25µg
Not suitable for use during pregnancy and breastfeeding. Not suitable for use in those with hyper-thyroid conditions. Always ask your product supplier or health professional if there are any specific precautions regarding your use of this or any supplement.