Radiance Tart Cherry Sleep Plus 60 Veg Capsules NEW
For use by those with restless sleep, nightmares, sleep onset and sleep maintenance difficulties. Radiance® Tart Cherry Sleep Plus may also benefit people with disrupted circadian rhythms due to shift work, jet lag and women suffering from night sweats associated with menopause.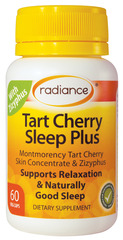 Specials are for online purchases only, don't miss out! -
Email
us to check for availability.
Insomnia is a common issue around the world, with data reporting that over ? of all people will experience trouble falling asleep or staying asleep most nights. Most people who experience insomnia report that it affects their ability to concentrate and perform daily activities and can make them feel anxious and depressed. The hormone melatonin, secreted by the pineal gland in the mid-brain, is involved in the control of circadian rhythm and is also a potent antioxidant. Melatonin secretion occurs primarily during the night and while the exact mechanism by which melatonin induces sleep is largely unknown; researchers believe it may act as a muscle relaxant and have an effect on GABA receptors inducing feelings of sleep and calm. Super fruit Montmorency cherry, a variety of tart cherry (Prunus cerasus), is one of the few known foods to naturally contain an appreciable amount of sleep supporting substances. Research shows that supplementing with tart cherry helps to amplify the melatonin sleep message and induce sleepiness. It is also shown to support people with disordered sleep cycles disrupted by long-term sleeplessness, shift work and jet lag. A perfect accompaniment to tart cherry is the traditional Chinese herb Zizyphus. This sedative herb helps to promote healthy relax ation of the mind and support sound sleep. It is especially useful for people who are experiencing restless sleep with excessive, vivid dreams or those who find they cannot sleep due to stress, worry and exhaustion. Zizyphus may also support people with excessive perspiration, so it is perfect for women who are unable to sleep due to night sweats associated with menopause. Radiance® Tart Cherry Sleep Plus provides premium Montmorency tart cherry skin extract concentrate; which provides bioactive substances to help support a healthy circadian rhythm and support a naturally good sleep. Radiance® Tart Cherry Sleep Plus is bolstered with high potency zizyphus seed extract to help minimise anxiety, stress and worry, while also acting as a natural sedative. All provided in a tasty, sugar free, vegetarian, berry flavoured pastille to make getting to sleep a breeze.
One or two capsules half an hour to an hour before bed
Zizyphus Seed Extract (equivalent to dry seed) 1800mg Montmorency Tart Cherry Skin Extract 400mg (70mg polyphenols, 36mg anthocyanins, 10-14 µg bioactive phytonutrients)
Not recommended for children or during pregnancy or lactation. Not for use by those using anticoagulant medications . Always ask your product supplier or health professional if there are any specific precautions regarding your use of this or any supplement.