Radiance Vitamin D3 1000IU 90 Veg Capsules
Radiance Vitamin D3 vegecaps provide 1000iu of Vitamin D, the sunshine vitamin. Vitamin D supplements are helpful for bone health and disease prevention, for those who can't spend enough time in the sun.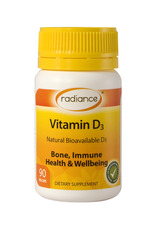 Specials are for online purchases only, don't miss out! -
Email
us to check for availability.
Radiance Vitamin D3 - the sunshine vitamin. Our skin evolved to create vitamin D when exposed to ultraviolet rays from the sun. When the majority of the population lived in the warm, sunny areas of the world and worked outdoors they got plenty of sun and made plenty of vitamin D - 10,000 to 20,000 international units (IU) daily. New Zealand has plenty of sunshine hours, but our indoor focused 21st century lifestyles, certain cultural and religious dress requirements and the need to protect ourselves from burning under our harsh UVB sunlight, means we are no longer manufacturing adequate vitamin D to provide for bone health or disease prevention. According to local researchers there is a high prevalence of vitamin D insufficiency in New Zealanders, especially in children, and certain ethnic groups including Maori, Polynesians and those that constantly remain covered or avoid sun exposure.
One capsule daily, with food. Do not exceed recommended dose without evidence of Vitamin D deficiency.
Each Vegecap Provides: Vitamin D3 (as cholecalciferol) 1000IU 100% Vegetarian. Also contains: Cellulose capsule, microcrystalline cellulose, magnesium stearate, silica. Contains no: Corn, egg, gluten, milk derivatives, nuts, salt, soy, sugar, wheat, yeast, artificial preservatives, flavouring or colours.
A need should be clearly established before taking daily doses over 1000IU. Caution is required with certain drugs including digoxin and thiazide diuretics. Always ask your product supplier or health professional if there are any specific precautions regarding your use of this or any supplement.