Radiance Zinc Complex 90 Capsules NEW FORMULA
Radiance Zinc Complex combines zinc with methionine for optimal absorption. For energy, healthy immune and reproductive function, and healthy radiant skin.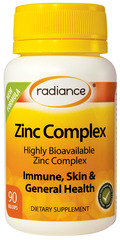 Specials are for online purchases only, don't miss out! -
Email
us to check for availability.
Radiance Zinc Complex is a patented 1:1 complex of zinc and the amino acid methionine that enhances zinc absorption. Zinc is a vital mineral for the health of the skin, hair, nails, men's prostate and women's reproductive systems. Zinc is also an important antioxidant and a co-factor in over 20 enzymatic reactions including immune function, digestion, thyroid function, insulin utilisation, hormone production and liver detoxification. New Zealand soils are low in zinc, added to the fact that it is a mineral which is poorly absorbed it is not surprising that there is a general deficiency of zinc in the New Zealand population. Radiance Zinc Complex is produced and proven to optimise absorption. An easy indicator of zinc deficiency is the appearance of white spots on the fingernails, taste and smell perception may also be diminished. A zinc taste/talley test (available at some health stores, pharmacies and many natural health practitioners) will help further confirm the need for supplementation
Take one capsule daily with food.
Each Capsule Provides: Zinc (from zinc l-monomethionine) 15mg Vitamin C 50mg Vitamin B6 10mg Magnesium 10mg Beta carotene (equiv to vitamin A) 1000IU 100% vegetarian. Also contains: GelaCellulose, rice flour, magnesium stearate, silica. Contains no: Dairy, gluten, artificial preservatives, flavouring or colours.