Redd Remedies Lung Care 80s
Do you have trouble taking in a full, deep breath? Do you get winded climbing the stairs and simply don't have the lung capacity to get enough air into your lungs? Imagine yourself breathing a little easier, deeper and enjoying all that life has to offer without feeling restricted.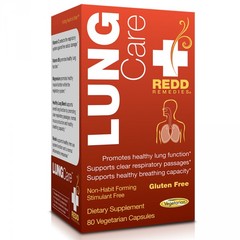 Specials are for online purchases only, don't miss out! -
Email
us to check for availability.
The respiratory system isn't just the lungs. To fully support breathing, the entire system needs to be addressed with nutrients, herbs and adaptogens. Healthy breathing needs more than just an expectorant. The Lung Care™supplement and aromatherapy inhaler is a powerful system designed to promote a healthy respiratory system to support healthy breathing capacity.* Formulated with a combination of essentials oils, herbs, vitamins and minerals, Lung Care™ is targeted care to further promote breathing ease and healthy lungs.
The Lung Care™ system provides nutrients that:
protect against free radical damage*

promote healthy lung function and breathing capacity by maintaining clear respiratory passages*

promote healthy muscle function within the respiratory system*

support healthy immune system function and a normal inflammatory response*

Redd Remedies is the culmination of years of work, research, and an uncompromising desire to offer the best products to our customers – but what does it really mean to offer "the best"? We have all heard those words before, likely a few
too many times. Our experience is that the best results are achieved when we integrate a balanced approach which focuses on our desired outcomes and includes natural medicine from all modalities.
So in Redd Remedies formulas, you will find Traditional Chinese Medicine, Ayurvedic medicine, aromatherapy, European herbals, vitamins and minerals. It is the tens of thousands of quality studies on natural medicine, as well as a rich tradition, that sets the stage for us at Redd Remedies. When we formulate, we search all the natural medicine world has to offer. You will find our products work quickly, going beyond the surface and focusing on the core of the problem.