Refresh Tears Plus Eye Drops 15ml
Refresh Tears Plus Lubricant Eye Drops restore the moisture to dry, irriated eyes with a special advanced electrolyte formula. Ideal for mild to moderate dry eye.
Refresh Tears Plus contains carmellose sodium as the active ingredient. Carmellose sodium stabilises the tear film and binds to the eye surface to maintain moisture and provide long lasting relief.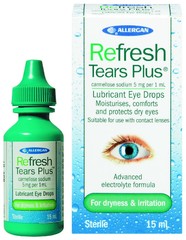 Specials are for online purchases only, don't miss out! -
Email
us to check for availability.
Refresh Tears Plus uses PURITE as the preservative. PURITE is one of the safest eyecare preservatives on the market. Once in contact with the eye, PURITE breaks down into natural tear components - sodium and chloride ions, oxygen and water - without causing damage to the eye surface.
Refresh Tears Plus is gentle enough to use as often as needed to provide long lasting relief and protection from the burning, irritation and discomfort of dry eyes.


Soothing relief for mild to moderate dry eye.

Moisturises, comforts and protects dry eye.

Temporary relief of burning, irritation and discomfort from exposure to the sun or wind.

Relief eye strain from prolonged computer work.

Gentle enough to use as often as needed.

Suitable for use with all contact lenses.
Instil 1 to 2 drops into each eye as needed.
Active Ingredient
Carmellose sodium 5mg/ml
Preservative
PURITE 50mcg/ml
If you experience eye pain, changes in vision, continued redness or irritation of the eye, or if the condition worsens or persists for more than 72 hours, discontinue use and consult your pharmacist or doctor.
Discard unused contents 1 month after opening.