Rexona Deodorant Clinical Protection Men Adventure
Rexona Clinical Protection - an advanced formula specifically designed to provide clinically proven wetness and odour protection for Men and Women who need the best. Rexona® Clinical Protection is formulated with revolutionary TRIsolid®™ body responsive technology which contains three important components:
Clinical strength wetness and odour protection. The maximum wetness protection ever from Rexona®. Patented encapsulated odour-fighting technology. Skin moisturising ingredient, formulated to reduce skin irritation.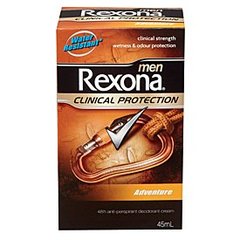 Specials are for online purchases only, don't miss out! -
Email
us to check for availability.
What can Rexona Clinical Protection do? Rexona Clinical Protection for Men and for Women provides twice the protection against excessive sweating. Now with the Clinical Protection anti-perspirant range you can say goodbye to the embarrassment of excessive wetness and odour associated excessive sweating. What makes Rexona Clinical Protection work? Rexona Clinical Protection provides clinical strength wetness and odour protection for 48 hours by using a revolutionary TRIsolid body-responsive technology. The TRIsolid formula adjusts to the body, forming a deep level of protection that lasts throughout the day, even after a shower. Is Rexona Clinical Protection suitable for me? Rexona Clinical Protection is ideal for men and women who suffer from heavier sweating and need the very best in dermatologically tested underarm protection. How long does Rexona Clinical Protection last? Rexona Clinical Protection Anti-Perspirant Deodorants have been specifically designed to provide up to 48 hour protection from wetness and odour What makes Rexona Clinical Protection unique? Rexona Clinical Protection Rexona Clinical Protection's TRIsolid formula is a "soft solid" cream anti-perspirant deodorant that contains the maximum wetness protection ever from Rexona. Has Rexona Clinical Protection undergone dermatological testing? Yes, every product in the Rexona Clinical Protection Anti-Perspirant range has been dermatologically tested. How quickly does Rexona Clinical Protection work? You will see results from Rexona Clinical Protection immediately. It will give you 48 hours of wetness and odour protection. Who develops Rexona Clinical Protection products? Rexona's parent company Unilever works with leading academic institutions around the world to advance its understanding of sweating and underarm protection in order to create well-tested safe formulations like Rexona Clinical Protection. What does dermatological testing mean? Rexona products are dermatologically tested. The test is carried out by an external company on a number of panellists and involves a two-application patch test to assess the comparative irritation potential of the product versus a positive control of detergent solution and a negative control of water; results are assessed by a Dermatologist. All of the Rexona Clinical Protection products have successfully undergone this testing. Are animals used in testing Antiperspirants? No. Unilever does not test finished products on animals, and uses human volunteers when testing is necessary.
How to use Rexona Clinical Protection For clinically proven protection, apply to underarms before going to bed. The recommended dose for each underarm is two clicks. Rexona Clinical Protection can also be applied in the morning