Scholl GelActiv Insoles Everyday Womens
Scholl Gel Everyday Insoles. Amazing comfort, shock absorbing GELACTIV™ TECHNOLOGY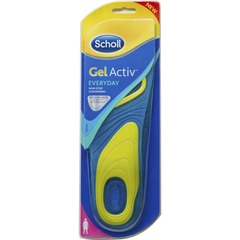 Specials are for online purchases only, don't miss out! -
Email
us to check for availability.
Why use Scholl GELACTIV™ Everyday?
Its dual gel is prove to effectively absorb micro shocks and helps reduce excessive pressure from walking and daily activities. The firmer gel provides arch and heel support and the softer gel gives superior cushioning and shock absorption.
GELACTIV™ TECHNOLOGY
GelActiv™ technology provides superior shock absorption* and cushioning performance with the ergonomically designed insert integrated in the insole. GelActive™ is effective in absorbing micro shocks and helps reduce the excessive pressure of activities like walking and running.
FITS SHOE SIZES
UK 5-8
AUS 6-9
EU 38-42
How to Use
Trim to fit if necessary. Cut along the outlines that matches your shoe size or use the original insole as a guide.
For best results, remove existing insoles and replace with Scholl GelActiv™ insole with GEL side DOWN. Replace the insoles when showing signs of wear.Replacement every six months is recommended.