Sebamed Baby Soft Cream 50ml
Excellent protection of the skin against cold
weather, prevention of nappy rash and
stimulation of the healing process.
This baby cream is unique in the way that it consolidtes the acidic pH 5.5 protective function of the delicate skin. It enables the natural metabolic processes and evaporation from the skin to continue I.e. the skin is still able to breathe. It also helps to stop infections, inflammation and skin irritation. Also recommended for extremely sensitive or dry skin e.g. atopic eczema, senile xerosis or psoriasis.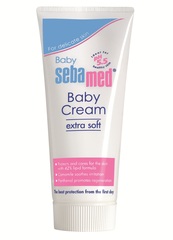 Specials are for online purchases only, don't miss out! -
Email
us to check for availability.
Consolidates the resistance of baby's delicate skin

With the pH value of 5.5 Baby sebamed is clinically proven to promote the
development of the acid mantle

Free from nitro-mochus compounds, formaldehyde, nitrosamines, dioxan

Without colour additives

Product features:
Intensive protection for delicate baby skin

Safeguards against harmful environmental influences

Forms a protective film against dryness and irritation, non-occlusive

Rich in panthenol, allantoin and camomile extract, the moisturizing and protective complex soothes and regenerates irritated skin

Easy to apply and readily absorbed

42% lipid composition

Water-in-oil emulsion

Aqua, Petrolatum, Paraffinum liquidum, Hydroxyoctacosanyl Hydroxystearates, PEG-45/Dodecyl Glycol Copolymer, Methoxy PEG-22/Dodecyl Glycol Copolymer, Sodium Lactate, Panthenol, Allantoin, Chamomilla recutita extract, Xanthan Gum, Parfum, Phenoxyethanol, Alcohol
sebamed represents one of the leading brands for medicinal skin care with a pH value 5.5 of healthy skin. All products of the sebamed range contain high-quality active ingredients which cleanse and nourish the skin without destroying the natural acid protection mantle. More than 120 scientific studies have tested the high effectiveness and very good skin compatibility of all sebamed products and confirm their skin care competence for sensitive and problematic skin. - See more at: