Colloidal Silver Creme Unscented 50g
Restore good health to your skin, naturally
Relieve dry, irritated, sensitive or problem skin, and support your skin's immune defences with The Skin Solution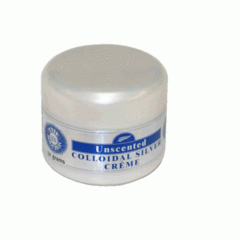 Specials are for online purchases only, don't miss out! -
Email
us to check for availability.
More than just a skin crème
The Skin Solution® colloidal silver crème is totally natural, fast working, gentle and effective. It is suitable for almost all skin types and surpasses most typical synthetic skincare products in health and performance benefits.
The crème is infused with colloidal silver, which enables it to work quickly and effectively to support your skin's natural immunity, while the all-natural herbal ingredients provide nourishment, which is essential in the development of beautiful healthy skin.
Who should use The Skin Solution®?
Those with problem skin or anyone wishing to support the natural immunity of their skin.
Those that require a moisturiser with mild antiseptic properties.
A person who prefers a totally natural skincare product that contains only healthy, herbal or natural ingredients.
Individuals with allergies or aversions to synthetic products, artificial preservatives, parabens, sulphates, ethoxylates or petroleum products.
Suitable for the whole family
The Skin Solution® has a broad-spectrum function and can be used anywhere on the body for nearly any purpose.
Contains up to six times the silver content of many comparable crèmes, making it an essential addition to the family healthcare cabinet or personal cosmetic range.
It will not cause skin discolouration, is suitable for the whole family and for nearly every skin type.
Powerful yet gentle, The Skin Solution® is the ultimate choice in skincare - for what other product on the market does so much for your skin, yet is so natural, healthy and cost effective?
Key Features: A Light, Natural Skin Creme infused with high quality Colloidal Silver and a blend of essential oils and botanicals to assist the skins natural healing process encouraging the growth of beautiful soft skin. - A Natural Creme made from plants and herbs.
Ingredient rich
Free from sulfates, ethoxylates, parabens, propylene glycol, petrochemicals, silicones and artificial colours!
No artificial preservatives.
Gentle and non-irritating.
Penetrates skin quickly leaving skin feel soft and refreshed.
Non-greasy.
Suitable for all ages from babies to elderly.
Suitable for most skin types.
Formulated without animal ingredients or animal testing.
Ideal as a facial and neck creme.
Supports natural healing process: This unique Herbal Creme supports the skin's natural healing process. Ideal as a natural face and neck creme to help restore skin cells, it helps create beautiful soft smooth skin, a creme for the whole family. This Natural Skin Creme is enriched with natural elements to harmonise and help create healthy radiant skin.
Revitalises the skin: Leaves the skin feeling fresh and soft. Natural plant derived moisturisers gently replenish a tired complexion giving an all-over supple and smooth sensation.
Soothes damaged, broken skin: A cool light creme experience enriched with essential ingredients for soothing irritated and damaged skin. The non-abrasive particles leaving the skin feeling calmed and balanced.
Uses: For moisturising, soothing and supporting the skins natural healing process to help create soft smooth skin. Suitable for all skin surfaces including damaged or broken skin. This Natural Herbal Cream is suitable for the whole family from infants to the elderly.
Directions: Apply as required to any skin surface; rub in gently.
Special Directions: For best results apply to skin first before other skin cosmetics, supplement with The Silver Solution for immune system support.
Dosage: Even thin coating or as required.
Oily Skin: The Skin Solution is not formulated for moisturising oily skin however the other benefits of using The Skin Solution on oily skin still apply.
Frequency: Apply morning and night or as often as required.
Storage: Always replace lid after usage. Keep out of direct sunlight, store at room temperature.
Safety: Keep out of reach of children. If this crème causes undue irritation cease use.
ACTIVE INGREDIENTS: Witch Hazel, Shea Butter, Almond Oil, Grape Seed, Coconut Oil, Apricot Kernel, Jojoba, Calendula, Sesame Seed Oil and Colloidal Silver.
Witch Hazel: One of the most widely used cosmetic ingredients, it is a skin freshener and astringent made from the leaves and/or twigs of Hamamelis virginiana.The plant is valued for its astringent and firming effects and its stimulation of connective tissue. Witch hazel thus helps to give a clear, rosy complexion on account of its astringent and soothing properties.
Shea Butter: For centuries, Africans have used Shea Butter to protect themselves from harsh weather and the effects of inevitable aging. This highly acclaimed natural butter is derived from the nut of the Shea-Karite tree. It is revered as the most effective natural skin moisturiser and conditioner because of its high content of non-saponifiable fats, including Kariten, Allantoin and Vitamin F. Giving great moisture retention in lipids to combat wrinkles and stretch marks and improve the elasticity of aging skin. Found exclusively in the tropics of West Africa, the Shea-Karite tree takes approximately 30 years to bare nuts that yield Shea Butter with a high content of irremovable fatty acid. It is this high content of irremovable fatty acid that renders Shea Butter far superior to Cocoa Butter and other natural vegetable butters. The fatty acid is indispensable in moisturising and retaining the elasticity of skin, and is responsible for its traditional therapeutic properties including protection against weather and sun and elimination of superficial irritations. Shea Butter quickly and completely absorbs into the skin & scalp to re-hydrate and protect skin without clogging pores and leave no greasy residue.
Almond Oil: helps to soften Dandruff, thereby facilitating its elimination and alleviates dry skin. Almond paste was a favourite early European cleanser. An oil that absorbs well during massage and protects the skin. Best used on normal to dry skins. Can be blended with other nutrient rich oils or essential oils.
Grape Seed Extract: Maintains the integrity of the Skin's Collagen and Elastin - by quenching the Xanthine Oxidase enzyme that catalyses the production of the detrimental Collagenase and Elastase enzymes. This activity helps to prevent some aspects of Skin Aging. Grape Seed assists in inhibiting the development of Wrinkles (by enhancing the body's renewal of Collagen, inhibiting excessive Cross-Linking and inhibiting the Hyaluronidase enzyme).
Coconut Oil: widely used in the manufacture of baby soaps, shampoos, shaving lathers, cuticle removers, pre-shaving lotions, hair-dressings, soaps, ointment bases, and massage creams. Stable when exposed to air. Lathers readily and is a fine skin cleanser. Coconut Oil helps alleviates dry skin.
Apricot Kernel: is an excellent skin and scalp conditioner and moisturiser. It is rich in vitamins, especially vitamin A, minerals and essential fatty acids, such as oleic, linoleic and palmitic acids. It is very light in texture and easily absorbed by the skin. It has excellent moisturising, nourishing and revitalising properties. Apricot Kernel oil easy penetrates the skin and doesn't leave any greasy residue. It is one of the most common carrier oil used in aromatherapy and massage. Due to its vitamin and mineral content Apricot Kernel oil provides excellent nourishment for aged, mature, sensitive or dry skin and scalp.
Jojoba: lubricates the Scalp and thereby reducing the flaking of Skin associated with Dandruff. From the jojoba nut, a unique liquid wax, very similar to our own skin oil - sebum. Very stable oil readily utilised by skin tissue. It?s resistance to oxidation means it inhibits oxidation on the skin tissue and has a balancing effect on the body fluids and all skin types.
Calendula: is known to help eliminate blemishes and to assist in the management of calluses & corns.
Sesame Seed Oil: has been used as healing oil for thousands of years. Sesame oil is mentioned in the Vedas as excellent for humans. It is reported that research shows that sesame seed oil is a potent antioxidant and in the tissues beneath the skin, this oil will neutralize oxygen radicals. It penetrates into the skin quickly and enters the blood stream through the capillaries. Sesame seed oil absorbs quickly and penetrates through the tissues to the very marrow of the bone.
Colloidal Silver: Antioxidant, toxins and free radicals: Colloidal silver is also believed beneficial in assisting the body to fight against toxins the clearance of free radicals and the assistance of healing and growth. Bacteria, Yeast or Fungus cannot proliferate in the presence of Colloidal Silver.
BASE INGREDIENTS: Purified Water, Vegetable Glycerine, Vegetable Emulsifying Wax
Purified Water: Ultra Purified water approx 0.1 Micro-semeins; which equates to approximately 3 times double distilled water.
Vegetable Glycerin: Vegetable Glycerin (a skin conditioner) can be used as a natural emollient and skin protectant. Thickening Agents are a group of Food Additives employed to add texture (thicken) to the Processed Foods to which they are added.
Vegetable Emulsifying Wax: A wax used to emulsify (bind) the water and oils in creams and lotions.