SleepDrops Adults 30ml
Do You Have Trouble Getting To Sleep?
It can be extremely frustrating when sleep is escaping you each night but rest assured you're not alone. As natural sleep specialists we constantly hear from people just like you who feel sleep deprived, toss and turn all night, "can't turn their minds off", wake every night at a certain time and wake unrefreshed.
Whether you are having trouble going to sleep, waking during the night, or have little one's (or BIG one's)keeping you from achieving deep, restful sleep... SleepDrops may be the answer to your dreams! Many people simply want to enjoy a better night's sleep while not having to rely on sleeping pills and SleepDrops have been specially formulated to tick all the boxes and help you sleep. Due to New Zealand law we can't legally refer to them as a cure for insomnia but we are confident you will sleep better!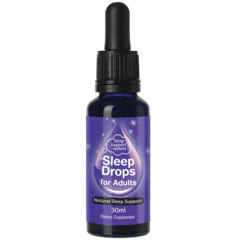 Specials are for online purchases only, don't miss out! -
Email
us to check for availability.
SleepDrops for Adults contains 13 herbal remedies which are among the most commonly researched, studied and recognised solutions for sleep problems, along with 11 Homeopathic sleep remedies that support normal sleep patterns plus a blend of flower essences which enable your body to remember how to get to sleep.
SleepDrops for Adults are a perfectly palatable liquid formula that you simply put under your tongue using the dropper provided with the bottle. Most people are pleasantly surprised by how good they taste! SleepDrops come in a base of glycerine, purified water and ethanol and it's the glycerine that gives them the sweet taste.
Use SleepDrops for Adults With Confidence
You can use SleepDrops for Adults with total confidence, knowing that you are taking a formula made by a company which includes a whole team of Herbalists, Naturopaths, Homeopaths and Doctors.
Chief formulator Kirsten Taylor is passionate about helping people find health and understands that sleep is one of the most important things we can do to help our bodies heal and rejuvenate. Since the inception of SleepDrops for Adults, Kirsten has also developed the Sleep Support System – the only comprehensive natural sleep system to provide 24 hour support.
Since the inception of SleepDrops for Adults, Kirsten has also developed the Sleep Support System – the only comprehensive natural sleep system to provide 24 hour support. If your sleeping challenges are long term or have been bought about by a stressful event/s then you may need to combine them with our Essential Sleep Nutrients and/or our fantastic Daytime Revive.
Each 30ml bottle contains 600 drops.
Each product is supported with an information booklet and a protocol sheet so you can easily understand how best to use our products for results – quickly.
General Directions for use:
Phase One:
For 5 nights take 5 to 10 drops under tongue 1/2 hourly starting 2 hours before bed. If you wake during the night, take one dose and repeat 1/2 hourly if necessary.
Phase Two: From the 6th night ongoing – Take 5 to 10 drops under tongue 1/2 hour before bed & once more immediately before retiring. If you wake in the night take one dose & repeat 1/2 hourly if necessary
Note: if you are a slight build or you are sensitive to medication take only 5 drops per dose.
Each 50ml bottle contains 1000 drops – that's 100 doses at 10 drops or 200 doses at 5 drops – which means GREAT VALUE!
'SleepDrops for Adults' contain a proprietary blend of:
Glycerine, Ethanol, Purified water, Corydalis ambigua (Corydalis), Eschscholzia californica (Californian poppy), Humulus lupus (Hops), Lavandula officinalis (Lavender), Matricaria recutita (Chamomile), Melissa officinalis (Lemon Balm), Passiflora incarnate (Passionflower), Piper methysticum (Kava), Piscidia piscipula (Jamaican Dogwood), Scutellaria lateriflora (Skullcap), Silybum marianum (Milk Thistle), Tilia sp. (Lime flower), Zizyphus jujuba (Zizyphus) with Homeopathic Chamomilla, Coffea cruda, Gentian lutea, Hypericum, Kali phos, Mag phos, Melatonin, Nux vomica, Passiflora, Pulsatilla, Vitamin C and combined with flower essences.
People sensitive or allergic to any of the ingredients should avoid this product. There is 0.005grams of dried herb equivalent per 5 drops dose so herb/drug interactions should be impossible. If you are concerned about this possibility please follow the advice of your medical practitioner.