SleepDrops Adults 50ml
Do You Have Trouble Getting To Sleep?
It can be extremely frustrating when sleep is escaping you each night but rest assured you're not alone. As natural sleep specialists we constantly hear from people just like you who feel sleep deprived, toss and turn all night, "can't turn their minds off", wake every night at a certain time and wake unrefreshed.
Whether you are having trouble going to sleep, waking during the night, or have little one's (or BIG one's)keeping you from achieving deep, restful sleep... SleepDrops may be the answer to your dreams! Many people simply want to enjoy a better night's sleep while not having to rely on sleeping pills and SleepDrops have been specially formulated to tick all the boxes and help you sleep. Due to New Zealand law we can't legally refer to them as a cure for insomnia but we are confident you will sleep better!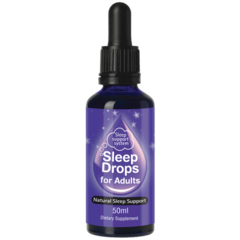 Specials are for online purchases only, don't miss out! -
Email
us to check for availability.
SleepDrops is a gentle but effective formulation to support healthy good quality sleep. It helps to assist the body to fall asleep, stay asleep and wake refreshed.
SleepDrops for Adults is a unique combination of herbs, homeopathic remedies and First Light Flower Essences of New Zealand. These sleep drops contain a unique blend of vibrational remedies which have been designed to work on many different levels including – mental, emotional, spiritual, physical and physiological.
SleepDrops for Adults are made in New Zealand from natural ingredients. They are gluten and dairy free, and can be taken with other medications and supplements. They are safe for use during pregnancy and breastfeeding.
Adults:
Phase 1: the first 5 nights take one dose (5-10 drops) under the tongue half hourly, starting two hours before bed

Phase 2: from the 6th night ongoing take one dose under the tongue half an hour before bed an another dose immediately before retiring to sleep
If waking through the night take up to 4 additional doses to support sleep

For best results combine with Essential Sleep Nutrients if staying asleep or stress is an issue .
SleepDrops for Adults contains a proprietary blend of glycerine (organic, coconut derived), water and alcohol plus:

Herbs - Californian poppy, Corydalis, Chamomile, Hops, Jamaican dogwood, Kava, Lavender, Lemon balm, Lime flower, Milk thistle, Passionflower, Skullcap, Zizyphus

Homeopathic remedies - Chamomilla, Coffea crud, Gentian, Hypericum, Kali phos, Mag phos, Melatonin*, Nux vom, Passiflora, Pulsatilla, Vitamin C (*Homeopathic Dose)

Flower essences – First Light Flower Essences of New Zealand
People sensitive or allergic to any of the ingredients should avoid this product. There is 0.005grams of dried herb equivalent per 5 drops dose so herb/drug interactions should be impossible. If you are concerned about this possibility please follow the advice of your medical practitioner.
What Makes SleepDrops Unique? SleepDrops is a natural solution that contains 13 of the most scientifically researched, studied and recognised herbal remedies for sleep problems combined with 11 homeopathic sleep remedies that support normal sleep patterns. These are combined with a blend of flower essences which enable your body to remember how to get to sleep and stay asleep. SleepDrops is designed to cover all the bases by supporting normal body processes such as liver function, naturally occurring sleep chemicals and the nervous system. It also provides energetic support for over active minds, emotional support and covers many other possibilities for a busy mind.