SleepDrops Babies 30ml
Does your little one or baby have problems sleeping? Is your baby restless and distressed? Is you baby teething or have digestive problems causing them to be restless or to not sleep as long as you think/know they should? Does your toddler get overexcited and have problems settling down? Does your child wake up squirming or crying/screaming after just going to sleep a short time ago?
If these problems sound all too familiar then try SleepDrops for Babies. It's specially formulated for newborns and children up to 3 years old.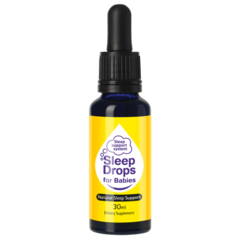 Specials are for online purchases only, don't miss out! -
Email
us to check for availability.
How Can SleepDrops for Babies Help?

As parents it can be difficult to work out what is distressing your baby. SleepDrops for Babies is a unique product which has been specially formulated to support and address the reasons your little one may not be sleeping.

We know you want your baby to be calm and happy... and most importantly to sleep well. We understand how important this is for busy parents so you can get the rest you need yourself.

SleepDrops for Babies are a completely natural sleep formula that will support your little ones natural sleep patterns. The drops are non-habit forming, non-toxic and are a gentle way to help soothe a distressed infant and re-establish calm or settle toddlers when they are overexcited.

SleepDrops for Babies have additional support for infants with a special blend of herbs and homeopathics to support low grade allergies, digestive health and teething problems.
This product is recommended for use for newborn to toddlers who are experiencing sleeping problems or whose parents or caregivers believe they would benefit from a sleep aid to support their length, quality or quantity of sleep.
General directions for use: Drops are put under the tongue, or close to the tongue and lips, inside the mouth. To support regular sleep, administer 1-2 drops when your baby goes down. Babies can also have 1 drop to reestablish calm. If they wake during the night, your baby can be given another drop each 5 to 10 minutes of awake time until sleep is restored.
Remember, our team is available to discuss your infant's individual needs on 09 418 0479 during office hours. And if your child is not sleeping within one week of starting the programme, please call us for support.
The 25ml bottle contains 500 drops – that's up to 500 doses – which means GREAT VALUE!
'SleepDrops for Babies' contains eight herbal remedies including some of the most scientifically researched, studied and recognised solutions for sleep problems, along with two herbal remedies to support the immune system and a healthy allergic response.
Homeopathic sleep remedies support normal sleep patterns and support your infant during the teething process, calm down tummy issues, while a blend of flower essences calm down an overactive mind and will help your child relax, settle and sleep better.
'SleepDrops for Babies' are a perfectly palatable liquid formula that you simply put under your infant's tongue using the dropper provided with the bottle.
They are in a base of glycerine, purified water and ethanol and it's the glycerine that gives the sweet taste. The amount of ethanol is so low, the amount of alcohol present in each dose would be less than that naturally occurring in a piece of bread!
We recommend using 'SleepDrops for Babies' under the tongue, but you can also pop them into your child's milk, juice, water or any other drink and they wont be able to taste them. However under the tongue is the most effective way to use them.
'SleepDrops for Babies' contain a proprietary blend of:
Organic Coconut Glycerine, purified water, ethanol, Corydalis ambigua (Corydalis), Eschscholzia californica (Californian poppy), Humulus lupus (Hops), Lavandula officinalis (Lavender), Matricaria recutita (Chamomile), Passiflora incarnate (Passionflower), Piper methysticum (Kava), Scutellaria baicalensis (Baical Skullcap), Albizia lebbeck (Albizia), Viburnum opulus, (Cramp bark) Zizyphus jujuba (Zyziphus) with Homeopathic Calc phos, Chamomilla, Colocynthis, Kreosotum, Mag phos, combined with flower essences.
Suitable for newborns to 3 year olds.
Infants sensitive or allergic to any of the ingredients should avoid this product.
There is 0.005grams of dried herb equivalent per 5 drops dose so herb/drug interactions should be impossible. If you are concerned about this possibility please follow the advice of your medical practitioner.