SleepDrops for Kids 30ml
Do your kids have trouble sleeping? Are they restless throughout the night? Are there problems with settling down at bedtime? Do they toss and turn at night? Do they wake up tired and grumpy?
If these problems sound all too familiar try SleepDrops for Kids. It's specially formulated for children aged between 3 and 12 years old.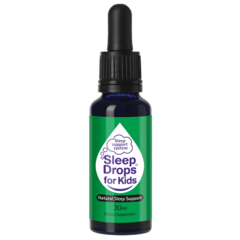 Specials are for online purchases only, don't miss out! -
Email
us to check for availability.
Click HERE for the full range of Sleepdrops
SleepDrops for Kids are a completely natural sleep formula designed to support your child's natural sleep patterns. They're a non-habit forming, non-toxic, gentle way to help you to re-establish calm before bedtime. This helps settle children when they are overexcited or have an overactive mind which may be preventing them from achieving the sleep necessary for their growing bodies.

There is no other sleep product for children like this on the market!
We know as parents you want to ensure what you are giving your child is safe, natural and easy to take.

You can give your child SleepDrops for Kids with total confidence, knowing that you are giving them a completely natural formula made by a company which includes a team of Herbalists, Naturopaths, Nutritionists and Homeopaths.

Our chief formulator and Naturopath, Kirsten Taylor, has been successfully getting kids to sleep using SleepDrops in her private clinic for over 7 years. Not only that but she uses SleepDrops for Kids and PPMP with her son every night as well.

What Results And Benefits Can I Expect?

Sleep! Your little ones going to sleep at bedtime and sleeping through the night
Total confidence knowing you are giving your child a perfectly safe, natural formula
Being able to enjoy your kids bedtime routine again
More "me" or "adult" time in the evening
If your kids are sleeping then you can get a good night's sleep as well since you might not have to get up in the night
A refreshed and happy family with energy to get through the day
Each 30ml bottle contains 600 drops. At 5 drops per dose that's 120 doses in each bottle which should last you between 1-2 months
SleepDrops for Kids is a natural liquid formula that is easy for parents to pop a few drops under your child's tongue and has a pleasant sweet taste. Most kids absolutely love them!
SleepDrops for Kids comes with a comprehensive support booklet and separate protocol sheet to empower you to use the remedy best for your child.
General directions for use: To support regular sleep, administer 5 drops under the tongue 30 minutes before bed and another 5 drops when switching the main lights out. You can continue to give ½ hourly if necessary, up to a maximum of 4 doses per night.
SleepDrops for Kids contains 13 Herbal remedies which are among the most commonly researched, studied and recognised solutions for sleep problems, along with 11 Homeopathic sleep remedies to support normal sleep patterns, plus a blend of flower essences to calm an overactive mind, help your child relax, settle and sleep better.
SleepDrops for Kids are a perfectly palatable liquid formula that you simply put under your child's tongue using the dropper provided with the bottle.
They are in a base of glycerine, purified water and ethanol and it's the glycerine that gives the sweet taste. You don't have to worry about the ethanol because the amount of alcohol present in each dose, would be less than that naturally occurring in a piece of bread!
We recommend using SleepDrops for Kids by popping them under their tongue.
Suitable for kids aged between 3 and 12 years old.
SleepDrops for Kids contain a proprietary blend of:
Glycerine, Ethanol, Purified water, Corydalis ambigua (Corydalis), Eschscholzia californica (Californian poppy), Humulus lupus (Hops), Lavandula officinalis (Lavender), Matricaria recutita (Chamomile), Melissa officinalis (Lemon Balm), Passiflora incarnate (Passionflower), Piper methysticum (Kava), Piscidia piscipula (Jamaican Dogwood), Scutellaria lateriflora (Skullcap), Silybum marianum (Milk Thistle), Tilia sp. (Lime flower), Zizyphus jujuba (Zizyphus) with Homeopathic Chamomilla, Coffea crud, Gentian lutea, Hypericum, Kali phos, Mag phos, Melatonin, Nux vomica, Passiflora, Pulsatilla, Vitamin C and combined with flower essences.
Children sensitive or allergic to any of the ingredients should avoid this product.
There is 0.005grams of dried herb equivalent per 5 drops dose so herb/drug interactions should be impossible. If you are concerned about this possibility please follow the advice of your medical practitioner.