Solgar Adv Antioxidant Formula 30's
Broad spectrum antioxidant formula Natural plant extracts Multi-system protection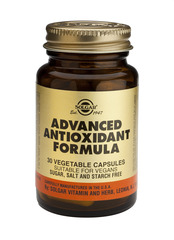 Specials are for online purchases only, don't miss out! -
Email
us to check for availability.
Solgar's Advanced Antioxidant contains a broad spectrum of synergistic antioxidant nutrients to help protect against free radical damage. Stress, pollution, smoking, alcohol, poor diet and even excess exercise increase the need for antioxidants in the body to neutralise free radicals before they can cause damage. Advanced Antioxidant provides daily protection with proven nutrients including Vitamins A, C and E, Zinc, Selenium, Glutathione and powerful natural plant extracts.
As a food supplement for adults, two (2) vegetable capsules daily, preferably at mealtime, or as directed by a health care practitioner. Always read the label and use as directed. Vitamins are supplementary to a balanced diet. If symptoms persist consult your healthcare professional. TAPS PP5354
Two (2) vegetable capsules provide: Vitamin C (as calcium ascorbate)500mg Vitamin E (200iu as d-alpha tocopheryl succinate)134mg L-Cysteine (as hydrochloride)100mg Food Based Antioxidants50mg (powdered extracts of green tea [7.5mg polyphenols], red wine [4.5mg polyphenols] and pycnogenol [3mg procyanidins] Powdered Active Plant Base70mg (Spirulina, Ginkgo biloba extract, Milk thistle extract, Gotu kola extract) Natural Source Beta Carotene (as prep)4.5mg Providing other carotenoids12ug Zinc (as glycinate)10mg Taurine50mg Manganese (as glycinate)4mg L-Glutathione25mg Powdered rosehips extract (4:1) and rosehips26mg Mixed tocopherols (as prep)20mg Vitamin A (2500iu, as palmitate prep)751ug Selenium (as selenomethionine)50ug Copper (as lysinate)1000ug Riboflavin-5-Phosphate (coenzyme B2)6mg Albion process patent #4,599,152 Chelazomes SOD (Superoxide Dismutase) Inducers Encapsulated with these natural ingredients: microcrystalline cellulose, magnesium stearate, silicon dioxide. Vegetable capsule shell: hydroxypropylmethyl cellulose.
If you are pregnant, nursing, taking medication, or have a medical condition, consult your healthcare provider before taking this product. Always read the label and use as directed. All Solgar dietary supplements are supplementary to, and not a replacement for a balanced diet. If symptoms persist consult your healthcare professional. TAPS PP8189