Solgar Alpha Lipoic Acid 200mg 50's
Broad antioxidant protection Liver detoxification support Healthy aging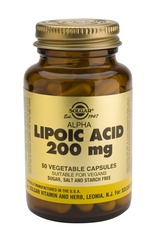 Specials are for online purchases only, don't miss out! -
Email
us to check for availability.
Alpha Lipoic Acid is a powerful antioxidant that is both water and fat soluble, meaning it has a broad protective action throughout the body. Alpha Lipoic Acid also recycles other antioxidants in the body including Vitamin E, C and CoQ10. Particular areas that benefit from Alpha Lipoic Acid include the brain and nervous system, the skin and the liver where it supports detoxification as well as helps protect the liver from free radical damage.
Take as directed. Always read the label and use as directed. Vitamins are supplementary to a balanced diet. If symptoms persist consult your healthcare professional. TAPS PP5354
Each Vegetable Capsule provides: Alpha Lipoic Acid (thioctic acid) 200mg Encapsulated with these natural ingredients: microcrystalline cellulose, magnesium stearate. Vegetable capsule shell: hydroxypropylmethyl cellulose.
If you are pregnant, nursing, taking medication, or have a medical condition, consult your healthcare provider before taking this product. Always read the label and use as directed. All Solgar dietary supplements are supplementary to, and not a replacement for a balanced diet. If symptoms persist consult your healthcare professional. TAPS PP8189