Solgar Artichoke Leaf extract 60's
The best known application for artichoke is the support of liver health and gastrointestinal function. Clinical studies have showed significant improvements in patients poor digestion after they were given artichoke leaf extract for 14 days.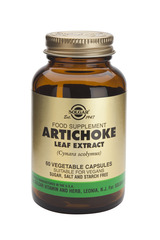 Specials are for online purchases only, don't miss out! -
Email
us to check for availability.
Recent research has shown that artichoke leaf extract promotes the flow of bile, which is a substance required for absorption of fat-soluble nutrients. Bile also aids detoxification, which is the liver's primary role. Bile also romotes intestinal peristalsis, which is needed for proper colon function and elimination. Artichoke leaf extract has displayed significant antioxidant activity and it has shown to stimulate the regeneration of healthy liver cells. Solgar Artichoke Leaf Extract is suitable for Vegans.
Take 1 vegetable capsules daily. Always read the label and use as directed. Vitamins are supplementary to a balanced diet. If symptoms persist consult your healthcare professional. TAPS PP5354
1 Solgar Artichoke Leaf Extract Vegicap provides: 300mg Artichoke Leaf Powder Extract (equivalent to 1200mg Cynara scolymus)
If you are pregnant, nursing, taking medication, or have a medical condition, consult your healthcare provider before taking this product. Always read the label and use as directed. All Solgar dietary supplements are supplementary to, and not a replacement for a balanced diet. If symptoms persist consult your healthcare professional. TAPS PP8189