Solgar Bromelain 500mg 60 Tablets V
Joint support Sports injuries Clear airways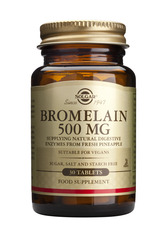 Specials are for online purchases only, don't miss out! -
Email
us to check for availability.
Bromelain is a natural protein digesting enzyme sourced from pineapple that has two functions as a health supplement. When taken with meals Bromelain supports healthy digestion of protein, especially beneficial for those experiencing digestive discomfort after eating. When taken between meals Bromelain targets very different areas, specifically joint comfort, wound healing and recovery from sports injuries, and mucus build up in the sinuses and respiratory system.
As a food supplement for adults, one (1) or more tablets daily, preferably at mealtime, or as directed by a healthcare practitioner. Always read the label and use as directed. Vitamins are supplementary to a balanced diet. If symptoms persist consult your healthcare professional. TAPS PP5354
Each tablet provides: Bromelain 500 mg (2000 Gelatin Digesting Units per gram - from fresh pineapple) Tableted with these natural ingredients: microcrystalline cellulose, citric acid, cellulose gum, lecithin, silicon dioxide, magnesium stearate, hydroxypropylmethyl cellulose, vegetable glycerin.
Caution with Warfarin. Take away from medications. If you are pregnant, nursing, taking medication, or have a medical condition, consult your healthcare provider before taking this product. Always read the label and use as directed. All Solgar dietary supplements are supplementary to, and not a replacement for a balanced diet. If symptoms persist consult your healthcare professional. TAPS PP8189