Solgar Calcium Citrate & Vit D 60's V
Well absorbed form of calcium Vitamin D for optimal utilisation Bone health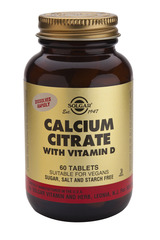 Specials are for online purchases only, don't miss out! -
Email
us to check for availability.
Solgar Calcium Citrate is a well absorbed form of calcium, combined with Vitamin D to ensure optimal absorption and utilisation. Calcium is not able to be properly utilised in the body if Vitamin D is deficient. Calcium is an essential mineral for bone health, and the healthy functioning of the cardiovascular and nervous systems.
As a food supplement for adults, four (4) tablets daily with water, preferably at mealtime, or as directed by a healthcare practitioner. Always read the label and use as directed. Vitamins are supplementary to a balanced diet. If symptoms persist consult your healthcare professional. TAPS PP5354
Four (4) tablets provide: Calcium (citrate)1000mg Vitamin D (ergocalciferol prep. 600iu)15ug Tableted with these natural ingredients: microcrystalline cellulose, magnesium stearate, silicon dioxide, hydroxypropylmethyl cellulose, vegetable gum, vegetable glycerin.
Take at least 2 hours away from medications. If you are pregnant, nursing, taking medication, or have a medical condition, consult your healthcare provider before taking this product. Always read the label and use as directed. All Solgar dietary supplements are supplementary to, and not a replacement for a balanced diet. If symptoms persist consult your healthcare professional. TAPS PP8189