Solgar Chelated Solamins Multimineral 90 Tablets V
Broad spectrum multimineral 9 essential minerals Well absorbed formula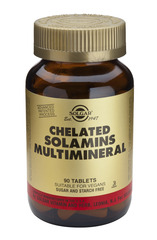 Specials are for online purchases only, don't miss out! -
Email
us to check for availability.
Mineral deficiencies are increasingly common due to depleted soils, refined foods and poor digestion. Solgar Chelated Solamins Multimineral formula provides 9 essential minerals in well absorbed chelated forms to help maintain healthy mineral levels in the body. This formula includes calcium and magnesium for strong bones and cardiovascular and nervous system health; zinc and selenium for immune support; iron and iodine for energy and mental function; manganese and copper for healthy connective tissue, and chromium for blood sugar balance.
As a food supplement for adults, three (3) tablets daily, preferably at mealtime, or as directed by a healthcare practitioner. Always read the label and use as directed. Vitamins are supplementary to a balanced diet. If symptoms persist consult your healthcare professional. TAPS PP5354
Three (3) tablets provide: Calcium (as carbonate, amino acid chelate+) 500mg Magnesium (as amino acid chelate+, oxide) 250mg Iron (as bisglycinate++) 10mg Zinc (as amino acid chelate+) 10mg Manganese (as amino acid chelate+) 4mg Selenium (as selenomethionine) 50ug lodine (as potassium iodide) 150ug Copper (as amino acid chelate+) 250ug Chromium (as amino acid chelate+) 20ug Manufactured under license agreement with Albion Laboratories. Tableted with these natural ingredients: microcrystalline cellulose, potassium chloride, cellulose gum, stearic acid, magnesium stearate, silicon dioxide, hydroxypropylmethyl cellulose, vegetable glycerine.
Take at least 2 hours away from medications. If you are pregnant, nursing, taking medication, or have a medical condition, consult your healthcare provider before taking this product. Always read the label and use as directed. All Solgar dietary supplements are supplementary to, and not a replacement for a balanced diet. If symptoms persist consult your healthcare professional. TAPS PP8189