Solgar Ester C Plus 500mg 50 Capsules V
Superior absorption & utilisation Non-acidic Immune, adrenal, skin & cardiovascular health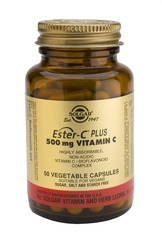 Specials are for online purchases only, don't miss out! -
Email
us to check for availability.
Solgar Ester-C Plus™ is a premium non-acidic form of Vitamin C with proven superior absorption, effectiveness and tolerance. Research shows Ester-C enters the bloodstream twice as fast, stays there twice as long and reaches the cells four times as efficiently when compared to ordinary vitamin C. Solgar Ester-C Plus™ also contains bioflavonoids, acerola and rosehips for added synergistic effects. This formula provides immune support, antioxidant protection, adrenal support and provides nutrients important for collagen production vital for skin and cardiovascular health.
As a food supplement for adults, one (1) to three (3) Vegetable Capsules daily, preferably at mealtime, or as directed by a healthcare practitioner. Always read the label and use as directed. Vitamins are supplementary to a balanced diet. If symptoms persist consult your healthcare professional. TAPS PP5354
Each vegetable capsule provides: Vitamin C (as calcium ascorbate, threonate[Ester C] )500mg Citrus Bioflavonoid Comple x 25mg Acerola Fruit Powdered 10mg Rose Hips Powder10mg Rutin5mg With the naturally occurring vitamin C metabolites (including L-threonic acid, L-lyxonic acid and L-xylonic acid) that have been shown to enhance the absorption of vitamin C. Encapsulated with these natural ingredients: magnesium stearate, silicon dioxide. Vegetable capsule shell: hydroxypropylmethyl cellulose.
If you are pregnant, nursing, taking medication, or have a medical condition, consult your healthcare provider before taking this product. Always read the label and use as directed. All Solgar dietary supplements are supplementary to, and not a replacement for a balanced diet. If symptoms persist consult your healthcare professional. TAPS PP8189