Solgar Kangavites Childrens Chewable Multivitamin & Mineral Bouncing Berry 120's
Broad spectrum children's multi No artificial colours, flavours or sweeteners Great tasting chewables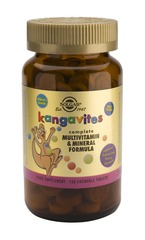 Specials are for online purchases only, don't miss out! -
Email
us to check for availability.
Kangavites are a complete multivitamin and mineral formula specially designed for children over 3 years. Great tasting and all natural, Kangavites contain no artificial colours, flavours or sweeteners and provide a broad spectrum of essential vitamins and minerals required for healthy growth and development. Research has shown that, due to the increase of processed foods, picky eating habits and nutrient deficient foods coming from depleted soils, many children are not getting the nutrients they need from their daily diet. Good nutrition is vital every day for learning, normal behaviour, immune resistance and growth and development. While a healthy balanced diet remains fundamental, nutritional 'top-ups' with high quality supplements can help ensure children are getting all they need to keep them healthy and thriving.
As a food supplement for children aged 3 to 5 years of age, take one (1) tablet daily, for ages 6 years to adult, take two (2) chewable tablets daily, preferably at mealtime, or as directed by a healthcare practitioner. Always read the label and use as directed. Vitamins are supplementary to a balanced diet. If symptoms persist consult your healthcare professional. TAPS PP5354
Ingredients One (1) chewable tablet provides: Calcium (as carbonate) 64mg Magnesium (as oxide) 32mg Vitamin C (as sodium ascorbate) 60mg Niacin (vitamin B3 as niacinamide) 10mg Natural source Betacarotene (as prep.) 1.4mg Providing other carotenoids 3.7ug Natural source Vitamin E (15iu d-alpha tocopheryl succinate) 10mg Iron (as ferrous fumerate) 2.5mg Pantothenic Acid (as Calcium pantothenate) 5mg Fruit and Vegetable Powders(carrot, red beet, strawberry, apple, broccoli, apricot) 7mg Biotin (as prep) 50ug Vitamin B6 (as pyridoxine hydrochloride) 1mg Zinc (as oxide) 1.5mg Riboflavin (vitamin B2) 0.85mg Thiamin (vitamin B1, as thiamine mononitrate) 0.75mg Vitamin A (500iu, as retinol palmitate prep.) 150ug Soya Lecithin Powder2.5mg Choline (as bitartrate) 500ug Vitamin D2 (100iu,as D2 prep.) 2.5ug Folic acid (as prep)100ug Copper (gluconate) 25ug Manganese (as sulphate) 250ug Citrus Bioflavonoids (as prep) 150ug Vitamin B12 (as cobalamin prep) 3ug Selenium (as selenomethionine) 2.5ug Iodine (as potassium iodide prep.) 22.5ug Inositol 500ug Rosehips Powdered Extract (4:1) 500ug Chromium (as amino acid chelate) 5ug Tableted with these natural ingredients: sucrose, mannitol, microcrystalline cellulose, xylitol, fructose, natural flavourings (including mixed berry and orange), anthocyanins (from grapeskins), silicon dioxide, vegetable stearic acid, magnesium stearate, carageenans, citric acid, malic acid, cellulose gum, xanthum gum, potassium chloride.
If you are pregnant, nursing, taking medication, or have a medical condition, consult your healthcare provider before taking this product. Always read the label and use as directed. All Solgar dietary supplements are supplementary to, and not a replacement for a balanced diet. If symptoms persist consult your healthcare professional. TAPS PP8189