Solgar L-Theanine 60's V
Nervous tension Mental calm & focus Quick acting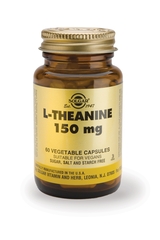 Specials are for online purchases only, don't miss out! -
Email
us to check for availability.
Naturally found in Green Tea, L-Theanine is proven to soothe nervous tension and support mental calm and focus during times of stress. L-Theanine is quick acting, non-drowsy and is an effective and well tolerated way to soothe frazzled nerves and help ease a worried, anxious mind.
As a food supplement for adults, one (1) vegetable capsule twice daily between meals, or as directed by a healthcare practitioner. Do not exceed directions for use. Always read the label and use as directed. Vitamins are supplementary to a balanced diet. If symptoms persist consult your healthcare professional. TAPS PP5354
Each L-Theanine vegetable capsule provides: L-Theanine 150mg Vegetable Capsule Shell: hydroxypropylmethyl cellulose Bulking Agent: microcrystalline cellulise Anti-caking Agents: Silicon dioxide, magnesium stearate* *Made from vegetable stearic acid Solgar's L-Theanine vegetable capsules are free of corn, yeast, wheat, soy and dairy products and is formulated without the use of artificial preservatives, flavours or colours.
Not suitable during pregnancy or breastfeeding unless under advice of a healthcare professional. Caution with antianxiety or antidepressant medication - take separately. If you are pregnant, nursing, taking medication, or have a medical condition, consult your healthcare provider before taking this product. Always read the label and use as directed. All Solgar dietary supplements are supplementary to, and not a replacement for a balanced diet. If symptoms persist consult your healthcare professional. TAPS PP8189