Solgar Milk Thistle Dandelion Complex 50's V
Powerful herbal liver complex Supports liver detoxification Guaranteed potency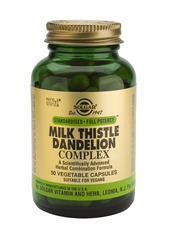 Specials are for online purchases only, don't miss out! -
Email
us to check for availability.
This carefully formulated blend of proven herbal extracts provides powerful liver and detoxification support. Ideal for anyone experiencing skin breakouts, bloating, low vitality, hormonal imbalance or sluggish bowel function, or those with poor diets and increased intake of alcohol and toxins. Solgar carefully selects only the best quality herbal ingredients from sustainable sources and are non-irradiated for optimal purity and potency. All Solgar herbal products contain a natural antioxidant blend to protect the herb's freshness, stability and integrity throughout their shelf life, and are suitable for vegans.
For adults one (1) to three (3) vegetable capsules. daily, preferably at mealtime, or as directed by a healthcare practitioner. Always read the label and use as directed. Vitamins are supplementary to a balanced diet. If symptoms persist consult your healthcare professional. TAPS PP5354
Each vegetable capsule provides: Standardised Dandelion Root Powdered Extract (3mg [3%] vitexin) 100mg Standardised Milk Thistle Powdered Extract (total flavonoids including silymarin 80mg [80%]) 100mg Standardised Turmeric Powdered Extract (71mg [95%] curcuminoids) 75mg Standardised Picrorizha kurroa Extract (Picroliv) (3mg [3.5%] kutkin) 75mg Raw Dandelion Root Powder 75mg Raw Milk Thistle Powder 75mg Standardised Phyllanthus amarus Aerial Powdered Extract 50mg (1.5mg [3%] phyllanthin and hypophyllanthin) Standardised Schisandra Berry Powdered Extract (4.5mg [9%] total lignans) 50mg PhytO2X (powdered blend of beta-carotene prep. and ascorbic acid) PhytO2X is a special blend of natural antioxidants, the purpose of which is to maintain the freshness of the ingredients. Encapsulated with these natural ingredients: vegetable magnesium stearate. Vegetable capsule shell: hydroxypropylmethyl cellulose.
Not suitable during pregnancy or breastfeeding unless under advice of a healthcare professional. If you are pregnant, nursing, taking medication, or have a medical condition, consult your healthcare provider before taking this product. Always read the label and use as directed. All Solgar dietary supplements are supplementary to, and not a replacement for a balanced diet. If symptoms persist consult your healthcare professional. TAPS PP8189