Solgar Neuro Nutrients 30's V
Key nervous system nutrients Mood balance Stress support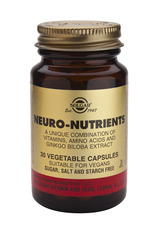 Specials are for online purchases only, don't miss out! -
Email
us to check for availability.
Neuro-Nutrients is recommended for anyone with nervous system depletion, stress related exhaustion, mental fatigue and low mood. This unique formula combines the key nervous system amino acids L-Tyrosine, L-Phenylalanine and L-Glutamine with important vitamin and herbal cofactors for optimal effectiveness.
As a food supplement for adults, one (1) to two (2) vegetable capsules daily with juice or water in between meals, or as directed by a healthcare practitioner. Always read the label and use as directed. Vitamins are supplementary to a balanced diet. If symptoms persist consult your healthcare professional. TAPS PP5354
Each vegetable capsule provides: L-Phenylalanine (free form) 167mg L-Tyrosine (free form) 167mg L-Glutamine (free form) 167mg Vitamin C (buffered as calcium ascorbate) 100mg Choline (bitartrate) 41mg Soy lecithin(providing 10mg [33%]phosphatidyl choline) 33.3mg Standardised Ginkgo Biloba leaf powdered extract 7mg (1.68mg [24%] ginkgoflavoglycosides) Thiamin (Vitamin B1, as thiamine mononitrate) 5mg Niacin (Vitamin B3, as niacin and niacinamide) 5mg Riboflavin (Vitamin B2) 5.5mg Pyridoxal-5-Phosphate (coenzyme form of vitamin B6) 2.5mg Encapsulated with these natural ingredients: magnesium stearate. Vegetable capsule shell: hydroxypropylmethyl cellulose.
Not suitable during pregnancy or breastfeeding unless under advice of a healthcare professional. Not suitable for those with schizophrenia, phenylketonuria or melanoma. Caution with high blood pressure, hyperthyroidism, MAOI antidepressants & L-Dopa. If you are pregnant, nursing, taking medication, or have a medical condition, consult your healthcare provider before taking this product. Always read the label and use as directed. All Solgar dietary supplements are supplementary to, and not a replacement for a balanced diet. If symptoms persist consult your healthcare professional. TAPS PP8189