Solgar Prenatal Nutrients 120 Tablets V
OUT OF STOCK - This product is being reformulated at this stage 7 Aug 2018
Preconception care Pregnancy & breastfeeding support Carefully formulated to support mother & baby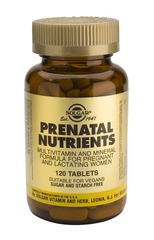 Specials are for online purchases only, don't miss out! -
Email
us to check for availability.
Nutritional requirements increase dramatically during pregnancy and breastfeeding and it can be difficult to obtain these extra nutrients from diet alone. Solgar Prenatal Nutrients has been formulated specifically for women before, during and after pregnancy, to support the health of both mother and baby. Prenatal Nutrients contains essential nutrients for healthy foetal development including folic acid, biotin, zinc and iron, as well as calcium and magnesium to support healthy blood pressure and avoid muscle tension during pregnancy.
As a food supplement for pregnant and lactating women. Two (2) tablets daily, preferably at mealtime, or as directed by a healthcare practitioner. Do not exceed directions for use. Always read the label and use as directed. Vitamins are supplementary to a balanced diet. If symptoms persist consult your healthcare professional. TAPS PP5354
Ingredients Two (2) tablets provide: Calcium (as carbonate, citrate) 650mg Magnesium (as oxide, citrate) 225mg Soy Protein Isolate 80mg Iron (as Bisglycinate+) 14mg Vitamin C (as ascorbic acid) 50mg Natural Source Betacarotene (as prep.) 1.8mg Providing other carotenoids 4.8ug Biotin (as prep.) 150ug Vitamin E (15iu, d-alpha tocopheryl succinate) 10mg Zinc (as oxide, amino acid chelate) 7.5mg Niacin (vitamin B3, as niacinamide) 10mg L-Aspartic Acid10mg Glycine 10mg Copper (as gluconate, amino acid chelate) 1mg Pantothenic Acid (as calcium pantothenate) 5mg Manganese (as gluconate, amino acid chelate) 0.5mg Inositol5mg Choline (as Bitartrate) 2mg Vitamin D (200 iu, as ergocalciferol prep.) 5ug Folic acid (as prep)400ug Selenium (as selenomethionine) 12.5ug Iodine (as potassium iodide prep.) 75ug Vitamin B6 (as pyridoxine hydrochloride) 1.25mg Thiamine (Vitamin B1,as Thiamine mononitrate) 0.85mg Riboflavin (Vitamin B2) 1mg Vitamin B12 (as Cobalmin prep.) 4ug Chromium (as picolinate, yeast-free) 12.5ug +A unique form of chelated iron (iron bisglycinate) formulated for maximum absorption without the gastrointestinal irritation or constipating effects that often accompany iron supplementation. Albion Process Amino Acid Chelate. Tableted with these natural ingredients: microcrystalline cellulose, stearic acid, magnesium stearate, silicon dioxide, cellulose gum, hydroxypropylmethyl cellulose, vegetable glycerin.
If you are pregnant, nursing, taking medication, or have a medical condition, consult your healthcare provider before taking this product. Always read the label and use as directed. All Solgar dietary supplements are supplementary to, and not a replacement for a balanced diet. If symptoms persist consult your healthcare professional. TAPS PP8189