Solgar Pyridoxal-5-Phos. 50mg Tabs 50's V
Activated B6 Hormonal balance Nervous system health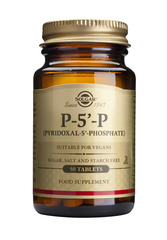 Specials are for online purchases only, don't miss out! -
Email
us to check for availability.
Pyridoxal-5-Phosphate is an activated form of B6 which offers all the benefits of Vitamin B6 for hormonal and nervous system health, however offers specific benefits for those with poor digestion and poor Vitamin B6 conversion in the body as it provides B6 in an already activated form. It is recommended to take a B complex supplement when taking single B vitamins to ensure a balanced intake.
As a food supplement for adults, one (1) tablet daily, preferably at mealtime, or as directed by a healthcare practitioner. Always read the label and use as directed. Vitamins are supplementary to a balanced diet. If symptoms persist consult your healthcare professional. TAPS PP5354
Each tablet provides: Pyridoxal-5-phosphate (P-5-P)50mg Riboflavin (B2)6mg Tableted with these natural ingredients: dicalcium phosphate, methacrylic acid, vegetable cellulose, vegetable magnesium stearate, titanium dioxide, glyceryl triacetate, vegetable glycerin.
If you are pregnant, nursing, taking medication, or have a medical condition, consult your healthcare provider before taking this product. Always read the label and use as directed. All Solgar dietary supplements are supplementary to, and not a replacement for a balanced diet. If symptoms persist consult your healthcare professional. TAPS PP8189