Solgar Uva Ursi & Juniper Formula 100's V
Urinary system health Healthy fluid balance High quality herbal formula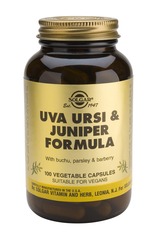 Specials are for online purchases only, don't miss out! -
Email
us to check for availability.
This unique formula combines key herbs proven to support a healthy urinary system and fluid balance. Solgar carefully selects only the best quality herbal ingredients from sustainable sources and are non-irradiated for optimal purity and potency. All Solgar herbal products contain a natural antioxidant blend to protect the herb's freshness, stability and integrity throughout their shelf life, and are suitable for vegans.
As an herbal food supplement for adults, three (3) Vegetable Capsules daily, preferably at mealtime, or as directed by a healthcare practitioner. Always read the label and use as directed. Vitamins are supplementary to a balanced diet. If symptoms persist consult your healthcare professional. TAPS PP5354
Each vegetable capsule provides: Uva Ursi Leaf Powdered Extract (Arctostaphylos uva-ursi, 3:1) 150mg Juniper Powdered Berry Extract (Juniperus communis, 2:1) 150mg Buchu Leaf Powdered Extract (Barosma betulina, 4:1) 150mg Parsley Herb Powdered Extract (Petroselium cripum, 4:1) 25mg Barberry Fruit Powdered Extract (Berberidis cortex, 4:1) 25mg Encapsulated with these natural ingredients: microcrystalline cellulose, vegetable stearic acid. Vegetable capsule shell: hydroxypropylmethyl cellulose.
Not suitable for those with kidney disease or during pregnancy or breastfeeding unless under advice of a healthcare professional. If you are pregnant, nursing, taking medication, or have a medical condition, consult your healthcare provider before taking this product. Always read the label and use as directed. All Solgar dietary supplements are supplementary to, and not a replacement for a balanced diet. If symptoms persist consult your healthcare professional. TAPS PP8189