Solgar Vit. B-3 (Niacin) 100's V
Essential B Vitamin Energy production Cardiovascular support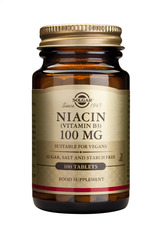 Specials are for online purchases only, don't miss out! -
Email
us to check for availability.
Vitamin B3 is an important B vitamin required to support energy production, metabolism, blood sugar regulation and healthy cholesterol levels and circulation. High does of Vitamin B3 can cause flushing, we recommend Solgar No Flush Niacin if high doses are required. It is recommended to take a B complex supplement when taking single B vitamins to ensure a balanced intake.
As a food supplement for adults, one (1) tablet daily, preferably at mealtime, or as directed by a healthcare practitioner Always read the label and use as directed. Vitamins are supplementary to a balanced diet. If symptoms persist consult your healthcare professional. TAPS PP5354
Each tablet provides: Niacin (vitamin B3) 100mg Tableted with these natural ingredients: dibcalcium phosphate, microcrystalline cellulose, stearic acid, magnesium stearate, cellulose gum.
High doses may cause temporary flushing (use Solgar No Flush Niacin instead) If you are pregnant, nursing, taking medication, or have a medical condition, consult your healthcare provider before taking this product. Always read the label and use as directed. All Solgar dietary supplements are supplementary to, and not a replacement for a balanced diet. If symptoms persist consult your healthcare professional. TAPS PP8189