Solgar Vit D3 400 iu 100's
Bone health Immune balance Cardiovascular health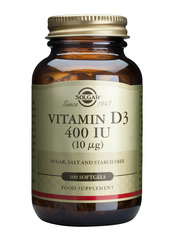 Specials are for online purchases only, don't miss out! -
Email
us to check for availability.
Vitamin D has been the subject of much research recently and it has been found to be a commonly deficient nutrient. While Vitamin D can be made in the body under exposure to sunlight the prevalence of sun protection and avoidance has led to many people having low levels of Vitamin D even in sunny climates such as New Zealand. Vitamin D is essential to support bone health, balanced immune function and a healthy cardiovascular system.
As a food supplement for adults, one (1) softgel capsule daily, preferably at mealtime, or as directed by a health care practitioner. Always read the label and use as directed. Vitamins are supplementary to a balanced diet. If symptoms persist consult your healthcare professional. TAPS PP5354
Each softgel capsule provides: Vitamin A (1000iu)(from fish liver oil) 300ug Vitamin D3 (400iu)(from fish liver oil) 10ug Encapsulated with this natural ingredient: Safflower oil. Softgel capsule shell: gelatin, glycerin.
If you are pregnant, nursing, taking medication, or have a medical condition, consult your healthcare provider before taking this product. Always read the label and use as directed. All Solgar dietary supplements are supplementary to, and not a replacement for a balanced diet. If symptoms persist consult your healthcare professional. TAPS PP8189