Solgar VM 2000 Multi-Nutrient 30's V
High potency multinutrient formula Broad spectrum health support All natural formula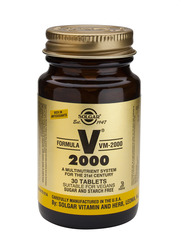 Specials are for online purchases only, don't miss out! -
Email
us to check for availability.
VM2000 is a high potency multivitamin and mineral formula providing broad spectrum nutritional support for daily vitality. VM2000 is a well absorbed formula containing high dose B vitamins to aid energy, stress resistance and mental function, along with vital nutrients for immune health and liver function and plant enzymes to aid tablet digestion. VM2000 is ideal for anyone under stress, feeling 'run down' or lacking in energy. Regular alcohol drinkers and those with poor dietary habits will especially benefit from the nutritional top-up VM2000 provides.
For adults, two (2) tablets daily, preferably at mealtime, or as directed by a healthcare practitioner. Do not exceed directions for use. Always read the label and use as directed. Vitamins are supplementary to a balanced diet. If symptoms persist consult your healthcare professional. TAPS PP5354
Two (2) tablets provide: Vitamin C (as Calcium Ascorbate)300mg Nutrient/Herbal Powder Base260mg (Providing Alfalfa, Rosehip Extract, Citrus Bioflavonoids, Rutin, Siberian Ginseng, Echinacea Purpurea Root, Suma Root, Spirulina, Lecithin, Dong Quai, Oat Fibre, Parsley,Watercress, Hesperidin Complex, Guar Gum) Isolated Soya Protein Powder200mg Vitamin E (200iu, as d-alpha tocopheryl succinate)134mg Calcium (as amino acid chelate+, carbonate)64mg Thiamin (Vitamin B1, as thiamine mononitrate)100mg Vitamin B6 (as pyridoxine hydrochloride)100mg Pantothenic Acid (as calcium pantothenate)100mg Riboflavin (Vitamin B2) 100mg Niacin (as niacinamide)100mg Inositol100mg Choline (as bitartrate) 41mg Natural Source Beta Carotene (as prep.)2400ug Providing other carotenoids 13ug Magnesium (as oxide, buffered amino acid chelate+) 32mg Iron (as bisglycinate++) 10mg Boron (as sodium borate, citric acid) 1mg Betaine HC l25mg Zinc (as oxide, amino acid chelate+)15mg Manganese (as gluconate, amino acid chelate+) 2mg Soya Lecithin 20mg Vitamin B12 (as cobalamin prep.) 100ug Copper (as gluconate, amino acid chelate+)1500ug Biotin (as prep.)100ug Vitamin D (400iu, as D2, ergocalciferol prep.)10ug L-Orthinine HCl 6mg Selenium (as selenomethionine)25ug L-Glutathione 5mg Taurine5mg Folic Acid (as prep.)400ug lodine (as potassium iodide prep.) 150ug Chromium (as picolinate, yeast free, nicotinoglycinate amino acid chelate+)25ug Special multi-chelate formula providing minerals complexed as amino acid chelates, citrates, aspartates, picolinates and highly absorbable mineral forms from Albion Process chelazomes. Unique form of chelated iron (iron bisglycinate) Tableted with these natural ingredients: microcrystalline cellulose, stearic acid, silicon dioxide, magnesium stearate, cellulose gum, hydroxypropylmethyl cellulose, Vegetable Glycerin, Riboflavin.
Contains gluten If you are pregnant, nursing, taking medication, or have a medical condition, consult your healthcare provider before taking this product. Always read the label and use as directed. All Solgar dietary supplements are supplementary to, and not a replacement for a balanced diet. If symptoms persist consult your healthcare professional. TAPS PP8189