Strepfen Intensive Honey & Lemon 16 lozenges
Strepfen Intensive
When swallowing is a real pain in the neck
If you have a sore swollen throat which is causing you severe pain, take comfort in the real and lasting relief you can get from Strepfen Intensive.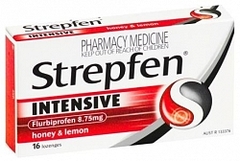 Specials are for online purchases only, don't miss out! -
Email
us to check for availability.
These hard-working lozenges contain an anti-inflammatory analgesic ingredient
which helps relieve the painful swelling and tenderness of the throat. Sucking on a Strepfen lozenge can relieve your sore throat for up to four hours.
Dosage:
Adults and children over 12 years:
Suck one lozenge slowly every 3 to 6 hours as needed. Move the lozenge around the mouth occasionally as you suck it.
Do not take more than 8 Strepfen lozenges in any 24-hour period. Do not take for more than 7 days.
Not recommended for children under 12 years of age.
If symptoms persist, talk to your pharmacist or doctor
Active Ingredients:
Each lozenge contains: Flurbiprofen 8.75mg
Check with your pharmacist or doctor before use:
If you are receiving regular treatment with other medications.
If you have asthma. Most asthmatics can take Strepfen Intensive, but if you are sensitive to aspirin or other anti-inflammatory medicines, do not take this product. If you are unsure, ask your doctor or pharmacist for advice.

Do not take:
* In the presence of stomach ulcer or other stomach disorders, impaired kidney function or heart failure.
* If you are allergic to aspirin, flurbiprofen or other anti-inflammatory medicines.
* During pregnancy except with your doctor's advice.
* In the last 3 months of pregnancy.