Surgipack Digital Infrared Forehead Thermometer
**Out of stock** 18 March 2020 ** Please email us for stock availability
SurgiPack Digital Infrared Forehead Thermometer allows a simple and quick measurement of the body temperature via the scanning of the forehead around the eyebrow area. This is particularly suitable for infants and young children.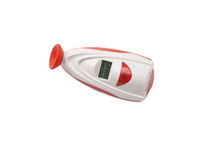 Specials are for online purchases only, don't miss out! -
Email
us to check for availability.
Measurement in 3 seconds
Fast & Convenient the SurgiPack Digital Infrared Forehead Thermometer measures the temperature after 3 seconds of scanning time.
Accurate & Reliable
Due to the unique probe assembly construction, incorporating an advanced infrared sensor, this device can offer a temperature measurement comparable to one taken from the oral site with a regular digital thermometer.

Gentle & Easy to Use
Appealing Penguin style delights the children
No need for Probe Covers at all, which makes the thermometer simple and easy to use
The thermometer can be used without interference to daily lifestyle. A measurement can be taken even while a child is sleeping.
The thermometer is less threatening to a child than a rectal thermometer and more pleasant to use than oral thermometer
Ideal for wriggly children
Auto-Display Memory
The last reading is automatically displayed for 3 seconds when the unit is switched ON.

Multiple Reading Recalls
Users will be able to recall the last 12 readings when entering the recall mode, enabling efficient tracking of temperature variations

Safe & Hygienic
No risk of broken glass or mercury ingestion & is completely safe for use on children

Fever Alarm
10 short beeps alert the patient that he/she may have a fever

2 year guarantee from date of purchase.

For home use only.
Contains One Digital Infrared Forehead Thermometer with storage case
Please keep in mind that, like any skin temperature, the temperature at the temporal area might differ from the core body temperature (eg obtained by a rectal probe), which is due to a basic physiologic effect called vasoconstriction. Since vasoconstriction can occur in the early stages of fever, resulting in a cool skin effect, the recorded temperature using a forehead thermometer may be suspiciously low. This condition can typically last for up to one and a half hours, so it is suggested that a second temperature reading is taken after that time. Skin temperature of babies reacts very quickly on ambient temperature. Therefore do not take a measurement while or after nursing; skin temperature may be lower than core temperature.

If the patient's measurement is not consistent we recommend checking the core temperature with an alternative method such as an ear or rectal thermometer.