SUSTAGEN HOSPITAL FORMULA ACTIVE 840g Chocolate
Sustagen Hospital Formula Active 840g Powder - Chocolate Sustagen® Hospital Formula is a balanced oral nutrition supplement and gluten free.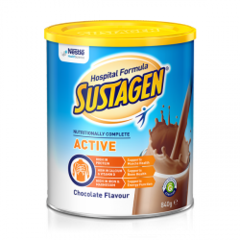 Specials are for online purchases only, don't miss out! -
Email
us to check for availability.
Sustagen Hospital Formula Active is a great tasting nutritious drink, packed with a comprehensive range of vitamins and minerals. Plus, it's high in protein to help keep you strong and active. It is an easily digested diet supplement for adults and children providing both additional energy and nutrients. Sustagen Hospital Formula may assist if you have a poor appetite, increased nutritional requirements or difficulty eating solid food.
Great for:
Poor appetite
People with poor diets
Long term illness
Increased nutritional needs
Recovery from illness or surgery
People with difficulty eating or swallowing

Benefits:

High in Protein - supports muscle health
High in Calcium & Vitamin D – supports bone health
High in Magnesium & Iron – supports energy function.

SUSTAGEN® Hospital Formula is a formulated meal replacement and cannot be used as a total diet replacement. Nutritional supplements can only be of assistance where dietary intake is inadequate. Please seek advice on your individual dietary needs from an Accredited Practising Dietitian or your healthcare professional.
Dosage:
Mix 60g or 3 level scoops (scoop inside can) of sustagen hospital formula into a glass (200ml) of water (or reduced fat milk, depending on taste).
To add flavour variety, you can easily add standard food flavourings (eg. caramel, banana, strawberry, etc) or just add canned or fresh fruit and blend.
Can be served hot, great in winter.
For additional nutrition, sustagen hospital formula can be added to other foods, used in baking, or sprinkled on breakfast cereals.

Active Ingredients:
Non Fat Milk Solids (62%), Corn Syrup Solids, Sugar, Whole Milk Powder, Cocoa Powder (4%), Minerals (Magnesium Hydrogen Phosphate, Ferric Pyrophosphate, Zinc Gluconate, Copper Gluconate, Manganese Sulphate, Sodium Molybdate, Chromium Trichloride, Sodium Selenite), Vitamins (C, E, Niacinamide, A, D3, B6, B1, B2, Folic Acid, K1, B12), Flavour. Contains Milk. May contain Soy. Gluten free.
Warnings:
Sustagen hospital formula is not a complete diet powder. It is a low fat supplement designed to complement the regular diet. It may be substituted for some meals or portions of meals, taken between meals or used to nutritionally fortify meals.